Federal Street filled with frenzy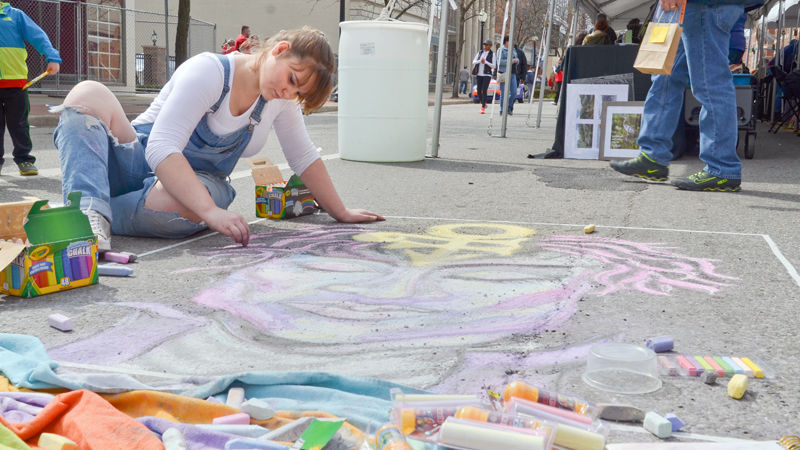 ---
By Joe Gorman
YOUNGSTOWN
The Federal Frenzy on Saturday on West Federal Street had a little of everything.
There was first and foremost live music, but also food, face-painting, art, clothing, cornhole and chemistry.
Yes. Chemistry.
And that, said Regan Guzik of YSU Penguin Productions, which sponsored the event, is a credit to the organizers, who are always looking for something different.
"Our committee overall does a really great job at finding talent," Guzik said.
Salam Picard, a Youngstown State University premed major, was doing chemistry experiments at the event because he said he wanted to "promote chemistry."
Picard was dissolving plastic foam cups, making slime and setting things on fire that would disappear within a millisecond after being lighted.
He said the event was perfect for educating people on the effects of chemistry.
"We can promote chemistry and other types of sciences," he said.
Promoting herself and her art work was 10-year-old Mila Waskin of Youngstown, who was busy painting with one of the artists on hand. Mila was asked to lend a hand, and she was reaching for different paints as she spoke to a reporter.
She said she likes Federal Frenzy because "You have a lot of people here" and it's a good way for her to show off her work and also get inspiration from the crowd. She said the biggest change from her appearance last year to this year is that this year, the crowd was bigger.
Guzik and her associate, Drake Hankins, said the weather this year was a lot better than last year, leading to bigger crowds.
"There's no rain, which is the best,." Guzik said.
One of the things organizers wanted to focus on was having things for children to do so families could attend, Guzik said.
"We were really trying to go for a family-friendly event,' she said.
The festival featured live music from 24 bands, including headliners Smallpools. Also featured Saturday was live music at the Lemon Grove and art in the McKelvey Gallery, both of which are in the Knox Building.
This is the fourth year the festival has taken place, but it is the first time three floors of the building have been open to the public in its 109-year-old history.
More like this from vindy.com