Falcons' Fitzgerald up to the challenge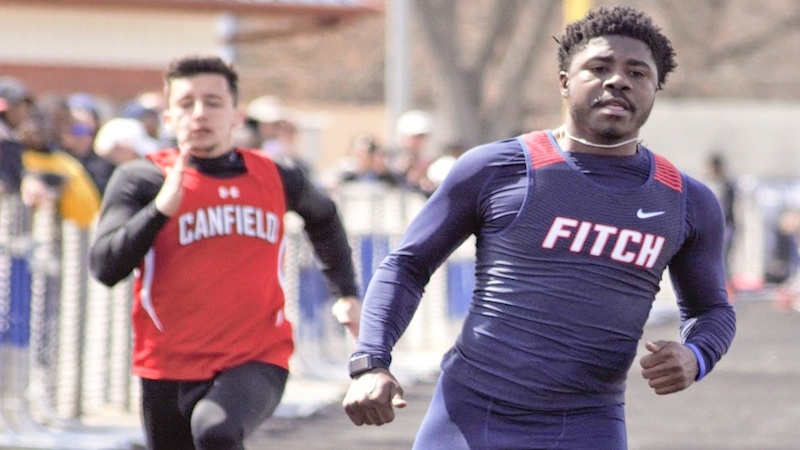 ---
By BOB ETTINGER
sports@vindy.com
AUSTINTOWN
Ralph Fitzgerald wants to be challenged and, in turn, likes to challenge those close to him. He understands that to be at his best, he needs to be pushed. At the 105th annual Mahoning County Track and Field Championships on Saturday, Fitzgerald was at his best in winning a pair of individual titles and anchoring a pair of winning relay teams.
"I like to be pushed," he said. "Tuesday meets are days to get better. I like the Saturday meets because I can see where I stack up. I feel like [the other competitors] are stopping me from where I want to be in life and I push myself to be better. If someone is beating me, he's stopping me from where I want to go."
No one was keeping Fitzgerald from where he wanted to be at Greenwood Chevrolet Falcon Stadium as he won the 100- and 200-meter dashes and anchored the championship 400 and 800 relay teams to lay claim to the Rob Ruane Award and help Fitch's boys win a team title.
"Last year, I was probably second, third or fourth," Fitzgerald said. "[The difference] was, honestly, the hard work and practice I put in. It's an individual sport. You can't get mad at the rest of the team if you don't win. There's only yourself. We do count on each other, but it's an individual sport and I just do what I can to help the team to the best of my ability."
That doesn't mean Fitzgerald just scores his points and calls it a day, however.
"A couple of seniors got hurt," he said. "They were leaders and somebody had to step up. The team looks up to me. My coach talks to me about setting the mood and doing it the right way and he says they'll follow me."
The best of Fitzgerald's ability meant winning the 100 in 11.31 over runner-up Rocco Almasy of Poland, who finished in 11.47. In the 200, Fitzgerlad got the better of Almasy again. This time, Fitzgerald won with a time of 23.05 to Almasy's 23.41.
The 800 relay team of Tyrese Bandy, Anthony Caulton, Drew Bretsik and Fitzgerald won in 1:31.72 and the team of Shane Hewlett, Caulton, Bretsik and Fitzgerald won the 400 relay by more than a second in 44.35.
"I love my teammates," Fitzgerald said. "They push me and I push them. We compete with each other and we make each other better. We have to count on each other."
Garrett Walker of Springfield won the Rob Ruane Award in Division II. He won the 100 and 200 dashes and was part of the winning 400 and 800 relay teams.
South Range won the D-II team title.
More like this from vindy.com