Dolak leads Fitch girls to Mahoning County title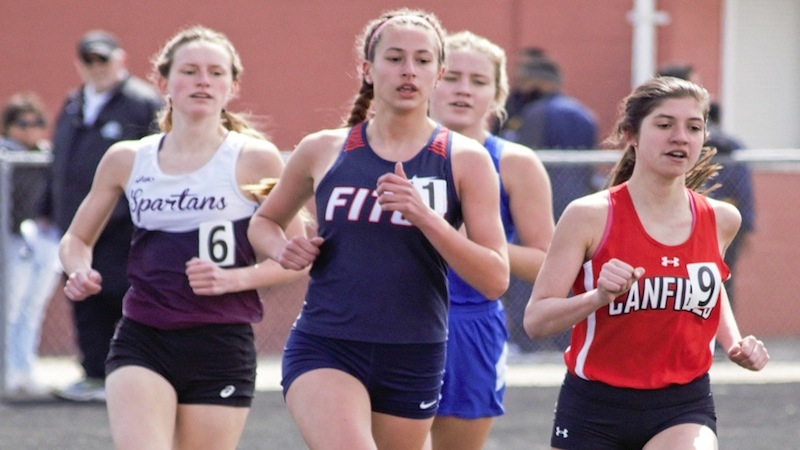 ---
Mahoning County Track and Field Championship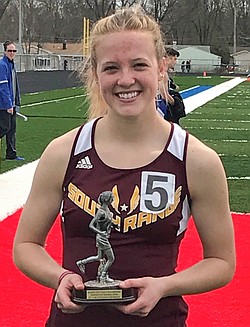 Gallery
The Mahoning County Track and Field Championships was held at Fitch High School on Saturday April 21, 2018. Photos by Bob Ettinger
By BOB ETTINGER
sports@vindy.com
AUSTINTOWN
Lauren Dolak was chasing her place in history when she stepped onto the track for the 105th annual Mahoning County Track and Field Championships on Saturday. In catching that dream, Dolak helped deliver the greater goal — a team win for her Austintown Fitch teammates.
Dolak claimed individual titles in the 400-, 800- and 1,600-meter races at Fitch's Greenwood Chevrolet Falcon Stadium.
"It was just about winning today," Dolak said. "I am happy. I could always do better, run better times, but I am happy with what I did today."
In also running the on the winning 1,600 relay team, Dolak claimed four championships and earned the Division I Rob Ruane Award with 32.5 points.
"My coach and I had this plan since last Saturday," Dolak said. "My goal since I was freshman was to be the county MVP. Three of my teammates since I was a freshman have won the award and I wanted to join that tradition. It feels really good. I've come up short in the past and I knew I had to go after it today. It's an honor to win [the award]."
Dolak won the 400 in 1:00.05, besting Raegan Burkey of Boardman, who was second in 1:00.72. In the 1,600, Dolak toppled Casey Zaitzew of Boardman. Dolak won in 5:27.56 while Zaitzew was second in 5:29.78. Then Dolak went out and ran a 2:29.56 in the 800 to beat Poland's Jackie Grisdale, who was the runner-up in 2:31.85.
"[Maturity as a runner] has a little to do with it," Dolak said. "I'd run this meet three times already. I'm also really confident in my training this year. I'm in better shape than I have been. It helped get me through the day. Right before the 800, my legs were hurting, but I knew I had to get it done."
As an encore, the Fitch senior ran on the 1,600 relay team that won by nearly five seconds and included Adria Ingram, Alena Williams and Daria Williams to cement her place in the history books.
"Of course, running all those events, I score points," Dolak said. "I do it for the team. We're all in the same pain, we're all running the same meet. I'm just doing my part. The team also had a goal today and that was to win the meet. I had to do my part and win my events."
Bethany Crouch of South Range claimed the Rob Ruane award in Division II with wins in the 100, 200 and 400. The Raiders won the D-II girls team title.
More like this from vindy.com