Aebischer's celebrates 90 years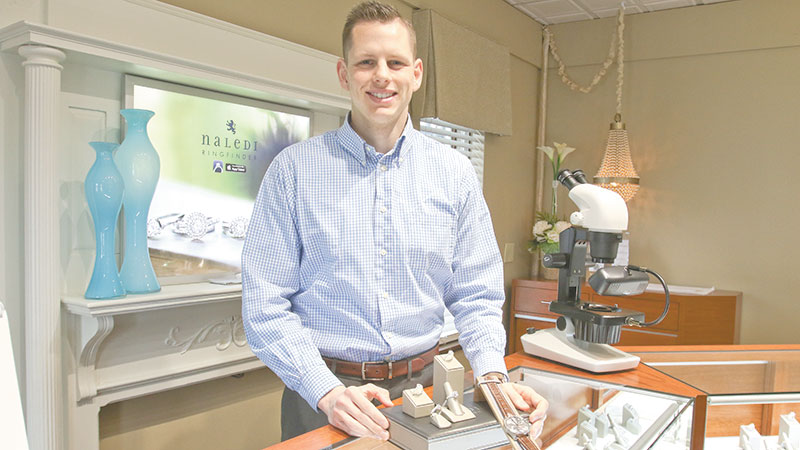 ---
Aebischer's Jewelry
marks milestone with celebration this weekend
By Kalea Hall
POLAND
The watchman's workbench that John Aebischer used to start his business 90 years ago is still used today at Aebischer's Jewelry.
Also still used today is the dedication to putting the customer first and providing quality service and product.
The store, located at 68 S. Main St., is now owned by third-generation owners, Doug and Karen Aebischer. Their sons, Adam and Alex, are also a part of the business.
This month, the business will celebrate its 90th anniversary with an in-store event Friday and Saturday. The anniversary celebration will feature giveaways that include a 0.90 carat round diamond valued at $6,336; a diamond fashion necklace valued at $1,200; a Mariana necklace valued at $242.50; and a men's watch valued at $450. Visitors must enter each contest in person during the anniversary weekend. The business will also offer customers 25 percent off their entire purchase up to $2,500 that weekend.
"It's pretty incredible," Doug said of the 90th anniversary. "It's pretty humbling as well. I am certainly proud that my two boys have decided to follow in the footsteps."
Doug's grandfather and grandmother, John and Johanna, came to the U.S. in 1927 from Switzerland. John, who had 10 years experience working in a Swiss watch factory, came to the Youngstown area knowing he would have work from the steelworkers who would need their watches fixed.
John opened his first watch repair shop on Bridge Street in Struthers in April 1928. To get customers, he would set up his workbench in the window and take his own watch apart and then reassemble it.
Eventually, the business got into jewelry repair. Then they got into buying watches and jewelry to sell and became a full-service retail jewelry store.
"Gradually over the years we started introducing finer pieces of jewelry," Adam said. "We sell only the finest cut."
John's son, Harold, took over the store in 1967. In 1976, the business moved to its current Poland location.
"This business has meant the world to me," said Harold Aebischer, in a statement. "Seeing our jewelry get passed down through generations, and helping people celebrate the biggest moments in their lives, is an incredible experience."
Doug believes John would have been proud of what the store has turned into today.
"It was never his intention to grow like this," he said.
For Adam, it's been exciting to work with customers that have worked with generations of Aebischers.
The event is a way to thank the community for its 90 years of support.
"The entire Aebischer family is grateful for the blessings that have allowed us to remain successful over the past 90 years," Doug said in a statement. "We look forward to many more years of helping others commemorate the special people and moments in their lives."
More like this from vindy.com