Penguins' Birkbeck hammers Vikings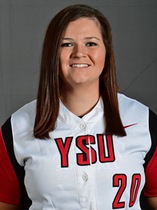 Photo
Staff report
Cleveland
The Youngstown State team swept the season series from Cleveland State after winning both games of a doubleheader, 5-2 and 6-3, on Saturday at Viking Field.
In the opener, YSU sophomore Elizabeth Birkbeck went 2 for 3 and hit a grand slam in the top of the first inning. Junior Lexi Zappitelli also had a run-scoring double in the top of the fifth inning to seal the win.
Junior Paige Geanangel picked up her ninth win of the season after tossing a four-hit complete game with six strikeouts.
In the nightcap, sophomore Maddi Lusk went 3-for-4 with a home run and two runs scored while Zappitelli went 3-for-4 to lead the Penguins' 12-hit attack.
Freshman Elle Buffenbarger struck out five in 51⁄3 innings pitched to pick up her seventh win of the year, and Geanangel earned her second save of the season pitching 12⁄3 innings of scoreless relief.
YSU (19-20, 9-6 Horizon League) took a 4-0 lead in the third. Zappitelli hit an RBI single and senior Stevie Taylor's bunt single scored Lusk, who singled, while Birkbeck's double to right field scored Zappitelli and Taylor scored on a passed ball.
The Vikings cut the lead in half bottom of the fifth with a pair of runs. However, the Penguins answered with a run in the top of the sixth when Lusk hit a solo home run to extend the lead to 5-2.
CSU (13-25, 3-8) added a run in the bottom of the sixth but YSU added an insurance run in the top of the seventh when Nikki Saibene scored on a Yazmine Romero groundout.
More like this from vindy.com