Summary of recent criminal activity in Poland and Boardman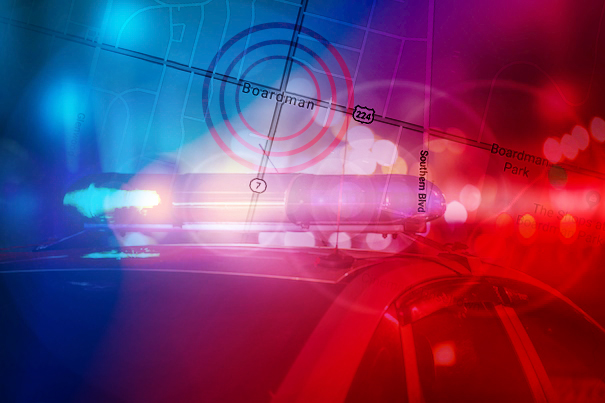 ---
A summary of recent criminal activity in Poland and Boardman
POLAND
April 12
Menacing: A New Castle Road man said he had received threats.
April 14
Theft: A township man reported a $25 gift card and a bottle of prescription medication stolen from his residence.
April 18
Drugs: Police seized two Tramadol tablets during a traffic stop on state Route 170, though the report contained no arrest information. Tramadol is a narcotic typically used to treat moderate to severe pain.
BOARDMAN
April 13
Arrest: Authorities arrested Terra L. Murphy, 40, at her West Boulevard apartment upon learning that the Boardman woman was wanted on a warrant charging contempt of court.
Identity fraud: A South Avenue woman told police she received an email stating someone had used an app to check her credit report without her authorization.
Theft: A temporary license plate was removed from a vehicle at Southern Park Mall.
Theft/vandalism: The owner of a Bonnie Place rental unit reported shelving units and a chandelier had been removed from an apartment after he had served an eviction notice to two tenants, and that extensive vandalism was done to walls, carpeting, doors, a phone jack and a commode. The theft and damage were estimated at $3,100.
Theft: Shaqualle J. Green, 25, of Winona Drive, Youngstown, and Tia L. Barnette, 27, of Homestead Drive, Boardman, were charged with theft and obstructing official business after $86 worth of merchandise was taken from Walmart, 1300 Doral Drive. In addition, Green ran from officers and pulled from them as she was being arrested in the parking lot; Barnette walked toward and yelled at police, despite having been told to stay near their cruiser, a report stated.
Arrest: A traffic stop on Southern Boulevard led to the arrest of Bernard Merchant of Sherwood Avenue, Youngstown, on charges of operating a vehicle impaired and drug abuse. Merchant, 45, who refused to submit to a breath test, had a bag that contained what he admitted was cocaine, police alleged.
Criminal damaging: A car in the 500 block of Boardman-Poland Road was found with a large scratch on its passenger-side front fender. Damage came to $555.
Theft: Joseph J. Gibbons, 22, of Thalia Avenue, Struthers, and Joseph P. Kopnitsky, 28, of South Schenley Avenue, Youngstown, were charged with stealing $405 worth of property that included three Bluetooth speakers from Walmart.
Theft: A Campbell woman noticed $130 missing from a wallet she had accidentally left at a Doral Drive big-box store.
Theft: A man discovered a 24-inch chain saw and other similar items missing from the garage to his mother's Tippecanoe Road home. The loss was calculated at $2,060.
Theft: A man reportedly stole a $194 pair of blue jeans from Bruce Gallery, 4040 Market St., then fled on foot.
April 14
Aggravated menacing: A Mathews Road woman reported her son had received threatening messages on Snapchat that included a reward to kill the boy.
Citation: After responding to a fight at a Boardman-Canfield Road restaurant, police cited Johnathan A. Tul of Winterberry Drive, Boardman, on a charge of engaging in a fight while intoxicated. An officer saw Tul, 19, punching a man who was on the ground, a report stated.
Drug paraphernalia: After pulling her over on Market Street, officers charged Kami J. Rotellini, 42, of Market, Boardman, with possessing drug paraphernalia, when, authorities alleged, a police dog led to the discovery of a suspected crack-cocaine pipe. Rotellini also was cited on a charge of having an open container of alcohol in a motor vehicle.
Theft: Police charged Venus M. Wilson, 58, with theft after alleging Wilson, of West Florida Avenue, Youngstown, had stolen from Walmart $55 worth of items that included eyeliner.
Theft: A woman reportedly stole a set of false eyelashes from Family Dollar, 4030 Market St.
Robbery: A man and a woman at a Market Street motel told authorities three men and a woman forcibly entered their room, struck them with small baseball bats and stole their cellphones before fleeing.
Theft: Daniel F. Frishkorn, 38, and Mary L. Frishkorn, 37, both of Cleland Mill Road, New Castle, Pa., were charged with theft and child endangering after $85 worth of merchandise that included DVDs was stolen from Walmart. The couple committed the crime in the presence of their teenage daughter, who ran from the scene, a report showed.
Theft: A Canfield man noticed 10 personal checks and his military identification card missing while he patronized a Southern Boulevard big-box store.
April 15
Arrest: Authorities received a complaint that someone with a fake military identification card was soliciting in the 800 block of Edenridge Drive before they arrested Andrew J. Smither, 36, of Topeka, Kan., who was wanted on two warrants, including one from that city.
Theft: A woman in her late 20s and accompanied by two children reportedly stole shampoo and cleaning products from Family Dollar, 4030 Market St.
Arrest: Officers received a tip about an erratic driver near Shields Road before charging Craig A. Popovich, 48, of Sawmill Run Drive, Canfield, with operating a vehicle impaired. Popovich refused to submit to a Breathalyzer test, a report said.
Theft: Michelle K. Skinner, 45, of 10th Street, Struthers, was charged with intentionally failing to self-scan seven items valued at $102 while in Walmart.
April 16
Arrest: Brooke A. Brady, 21, of Scott Avenue, Niles, surrendered on warrants charging her with one count each of assault, aggravated trespassing and criminal damaging, related to an Oct. 25, 2017, fight in which her boyfriend's former girlfriend alleged Brady had come to her Arden Boulevard residence and punctured a hole in a screen door before entering the home then grabbing and fighting with the victim.
Attempted breaking and entering: Someone did about $1,000 in damage to a garage door, evidently in an effort to enter a business in the 600 block of McClurg Road.
Attempted theft: A Lockwood Boulevard woman reported having seen a man entering her car before she yelled at the perpetrator and he fled.
Auto theft: A 2005 Chevrolet Express van was stolen from a driveway in the 500 block of West Glen Drive.
Drug paraphernalia: Shawn L. Paulin Sr., 39, of 170th Street, New Middletown, was charged with having a pipe with burn marks and suspected crack-cocaine residue after he had been pulled over near Southern Boulevard.
Theft: A 17-year-old Austintown girl was accused of stealing $320 worth of items from Macy's in Southern Park Mall.
Trespassing/theft: Police received information that someone had entered three vehicles on and near Kiowa Road. Missing items included a backpack.
Theft: Ashleigh L. Karnes, 32, of New Bedford, Pa., was charged, accused of having stolen $90 worth of clothing from Kohl's, 383 Boardman-Poland Road.
Criminal damaging: A double-pane window to an apartment in the 800 block of Cook Avenue was shattered, resulting in a $600 damage estimate.
Theft: A man and a woman were reportedly caught on surveillance footage stealing six security systems and a self-balancing scooter from Walmart, which resulted in a loss of nearly $1,400.
Theft by deception: A Mathews Road man told police he had used a credit card to order two car headlights on eBay but instead received a small package that contained a condom.
Vandalism: A man in his 20s who apparently was angered because of a self-scanning machine reportedly used a shopping cart to ram into a set of exit doors while in Giant Eagle, 476 Boardman-Canfield Road. Damage was estimated at $4,000.
April 17
Arrest: Police were dispatched to Boardman Area Court on Market Street to pick up Brandon D. Smith, 28, who was charged with violating a protection order. Last month, Smith, of Manchester Avenue, Youngstown, banged on the door of a Mathews Road residence that belongs to his former wife, violating an order she had filed against him, a report showed.
Burglary: To a second-floor apartment in the 800 block of Cook Avenue via the front door. Various personal items were stolen and damaged.
Menacing: Officers responded to a report of threats and a possible gun in the 800 block of Cook Avenue before charging Cheyenne K. Hough, 22, of Cook, Boardman, with menacing after another woman reported having gotten a series of calls and text messages stating she would die as well as be beaten up and shot. Also taken into custody was Christopher B.D. Taylor Jr., 23, same address, who was wanted on a warrant accusing him of failing to appear in court on a domestic-violence charge.
Theft: Jeffery A. Byer, 44, of Delaware Avenue, Poland, was charged in the theft of $233 worth of items from Giant Eagle, 1201 Doral Drive.
Arrest: Officers responded to a call relating to a person who was not wanted at a Wolosyn Circle apartment, where they took into custody Paul E. Esenwein Jr., 52, of Wolosyn, Poland. He was wanted on a felony warrant from Columbiana County charging failure to appear in court.
Theft: Officers at Boardman Area Court booked John M. Allen, 41, of Camden Avenue, Youngstown, who faced misdemeanor theft and criminal-simulation charges. Allen was accused of using nine fake $100 bills to pay for items last December at Burlington Coats, 529 Boardman-Canfield Road.
Theft: A woman reportedly took 75 gem stones commonly used for artistic purposes and valued at $449 from Hobby Lobby, 1136 Boardman-Poland Road.
Theft by deception: A man and his wife told police that in early 2017 they had hired and given a $16,000 down payment to a contractor to replace windows in their Southwoods Avenue home, but that the work has never been done.
Theft: Authorities at Boardman Area Court took custody of Brandice R. Shaffer, who was wanted on a theft count. Shaffer, of Halls Heights Avenue, Youngstown, was accused of stealing about $375 worth of clothing March 7 from Kohl's.
Identity fraud: A Trotwood Drive woman reported receiving a letter from the Internal Revenue Service that stated her Social Security number had been used fraudulently regarding obtaining employment.
Menacing: A worker with a Boardman-Canfield Road rental business said he got 11 such cellphone calls, along with voicemail messages that included a threat to dismember him.
Fraud: A Southern Boulevard woman told authorities her Social Security number had been stolen before she received a call from a man who claimed to represent the Social Security Administration and who supposedly was investigating a car that had been rented in her name and was pulled over in Texas and found with 30 kilograms of cocaine. The woman then hung up and called police.
Theft: Two empty beer kegs were taken from a fenced-in area behind Magic Tree Pub & Eatery, 7463 South Ave.
April 18
Theft: Donald G.M. Allgood, 29, of Warren, faced a felony-theft charge after authorities had responded to a possible drug overdose at a Market Street motel. The victim alleged Allgood stole an Ohio identification card, a credit card and money from him.
More like this from vindy.com