DeWine says he went negative only after his opponent did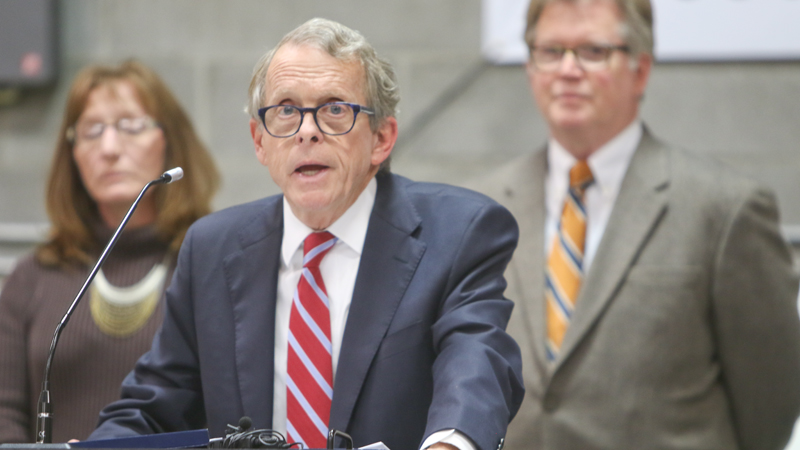 ---
YOUNGSTOWN
While Attorney General Mike DeWine, the Republican gubernatorial frontrunner, said he only went negative on Lt. Gov. Mary Taylor – his primary election opponent – because she did so first, he stands by the commercials that label her a "phony conservative."
During a Thursday editorial board meeting with The Vindicator, DeWine said the election has turned increasingly bitter "because from the moment Mary Taylor stood up in front of the [Republican] state central committee a number of months ago, she was on the attack."
However, he added: "I will make an offer right now. I will agree starting right now to take down every ad that we have that mentions Mary Taylor's name if she and her independent expenditure take down every ad that mentions Mike DeWine's name. I'm not going to go through everything that Mary Taylor has said in [the] ads and explain why they're not correct. [But] to label Mike DeWine as a liberal is ridiculous."
Michael Duchesne, Taylor's campaign spokesman, said Thursday that there are no plans to take down the commercials.
Taylor told The Vindicator last week that "Republican primary voters are sick and tired of the establishment who runs a campaign professing to be a conservative but once they get elected, they don't govern as a conservative, and that's what Mike DeWine is" doing.
She added that DeWine is "personally attacking and slandering me on TV."
DeWine said Thursday: "I am a conservative who's done things. I'm a conservative who's made a difference."
DeWine said he had no choice but to criticize Taylor because "one thing we've learned in elections is to not unilaterally disarm. It would be nice to walk in and run pretty ads all day. We would love to do that. We would love to spend the time on this campaign talking about the real issues that face the state of Ohio."
When asked why he has refused to debate Taylor, DeWine said he did debate her during an editorial board at The Plain Dealer and has been on the same stage with her about a dozen times.
It was pointed out that even The Plain Dealer didn't describe the meeting as a debate, DeWine said, "You can call them joint appearances" and that he and Taylor have been together enough for Republican primary voters to compare the two.
Taylor has criticized DeWine for refusing to debate her.
DeWine said he's talked about the issues during this campaign while Taylor has spent her time attacking him.
One issue DeWine discussed at length Thursday was the state's opioid epidemic.
DeWine said he has a done a lot to fight the problem, but can only do so much as attorney general. As governor, DeWine said he's got a 12-point plan to fight the epidemic.
Among his key points are:
Implementing proven K-12 drug prevention education in every school.
Getting legislation passed to give the governor the ability to declare a public health emergency.
Creating a law-enforcement data infrastructure that allows real-time statewide sharing of information and bring analytics and crime prediction to every Ohio law enforcement agency.
Expanding proven drug task force models that specifically target and disrupt the flow of drugs from Mexican cartels.
Creating a special position with that person reporting directly to the governor to work on fighting the epidemic.
Expanding early-intervention programs that target families and children in foster care.
Earlier Thursday, state Sen. Joe Schiavoni, a Democratic candidate for governor, criticized DeWine for not taking enough action to fight the opioid epidemic saying the Republican doesn't attack the problem.
"It's always just putting a little Band-Aid on here and there," Schiavoni said.
More like this from vindy.com