Children make sugary Easter treats
---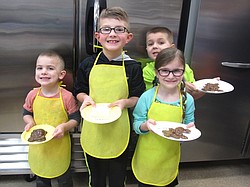 Photo
Neighbors | Zack Shively.The children got to choose whether they wanted to decorate three suckers or one chocolate bunny at the Sugar Showcase's Easter event. Pictured are Travis Pittman, Easton Pittman, Colton Bond and Makenzie Bond as they wait to decorate their sweets.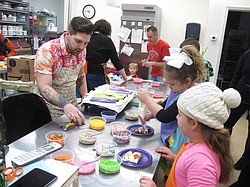 Photo
Neighbors | Zack Shively.The Sugar Showcase had seven volunteers in the store as well as three employees on-hand to help the children create, package and purchase their sweets. They set out a number of options for the children to use to decorate their treats.

Photo
Neighbors | Zack Shively.The Sugar Showcase had a Easter celebration in their building on March 30. They allowed families to come in and decorate sweets for the holiday. Pictured, James Franklin and Abby Parsons received their finished treat.
by ZACK SHIVELY
Families arrived at Sugar Showcase in Austintown's Wedgewood Plaza on March 30 to decorate treats for Easter.
The "kid's day" allowed children to choose either three small suckers or one full chocolate Easter bunny to choose to decorate. The store provided the children with icing bags designed for decorating and sprinkles.
The business had the event on Good Friday as the school-aged children had the day off. The program gave them a nice way to be creative. Sugar Showcase provided the children with a nice Easter treat where the parents did not have to worry about the mess made.
The children stood in line and waited their turn to decorate their sweets. They walked to volunteers who helped them use the decorating equipment. When they finished, they walked to other volunteers who put the sweets in a wrapper. They then went to the register to pay for the treat. In all, Sweet Showcase had seven volunteers in addition to three workers at the event.
Sugar Showcase had events like these throughout the year. They invite children to the building in the middle of October to make caramel apples and in December decorate cookies for Christmas.
More like this from vindy.com