Google visits Austintown Elementary School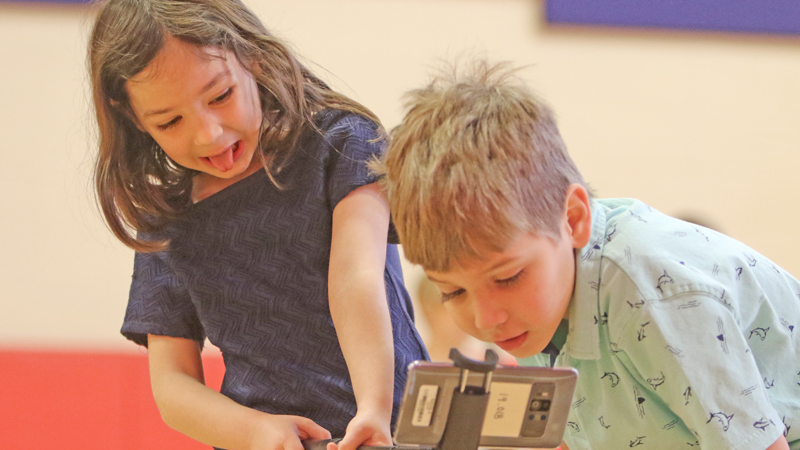 ---
AUSTINTOWN
Although dino- saurs have not walked the Earth in millions of years, they roamed Austintown Elementary School's gymnasium Thursday.
A few minutes later, tornados swept across the room.
The approximately 400 AES students who got to experience these unusual sights via augmented reality technology reacted with delight.
"It looks so cool," said second-grade student Emily Champion, looking at a dinosaur superimposed onto her view of the gym.
The experience was provided by Google Expeditions, an augmented reality app Google is piloting at schools.
A Google representative visited the school Thursday to train teachers and do demonstrations with students. AES will then provide feedback to Google after using the app for teaching.
"We're really grateful for the opportunity, and we hope to be able to use the app in the future to enhance our learning," said Renee Houser, a technology teacher at AES who applied for the school to participate in the program.
Students used smartphones to scan QR codes that unlocked different images. On their screens, they saw a view of the gym, plus whatever image had been added.
Second-grader Cameron Rhoe-Plummer was giddy with excitement as a tornado appeared on his screen.
"It's heading straight toward us!" he exclaimed.
Asked what he thought about the technology, he said: "Coolness."
After the demonstrations, AES teachers will be able to incorporate the technology into their lessons.
"It's just a tool, something extra to add to the classroom," Houser said. "There are all different types of learners, and I think we have to keep things interesting for the kids."
For example, students learning about the human skeletal system can look at parts of the skeleton up close on the app.
Students can look at asteroid belts, the ocean floor and weather forces, too, Houser said.
Students' feelings about the technology was evident, as they excitedly paced around the gym floor, smiling, cheering and looking at their screens in awe.
"They are so excited to see these things come to life," Houser said. "To actually be able to walk underneath a dinosaur? You'll never have an experience like that."
More like this from vindy.com