Board member blasts ODE for using district's law firm to probe Mohip conduct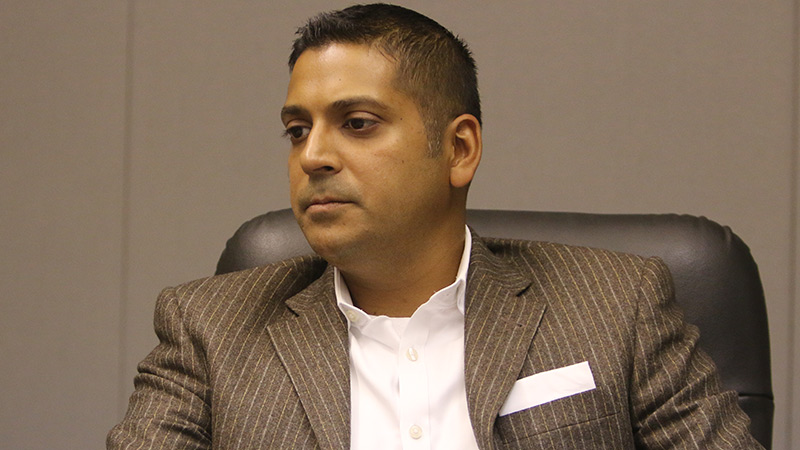 ---
By AMANDA TONOLI
atonoli@vindy.com
YOUNGSTOWN
A Youngstown school board member raised questions Wednesday about the legitimacy of an Ohio Department of Education investigation of CEO Krish Mohip that was performed by a law firm paid $700,000 in 2017 in bills approved by Mohip.
Board member Dario Hunter publicly revealed the ODE asked Baker & Hostetler to investigate after Brian Benyo, former Academic Distress Commission chairman, complained to the ODE alleging that Mohip may have engaged in "inappropriate conduct with respect to a female attorney" and a job applicant, according to ODE documents obtained by The Vindicator.
In a news release Wednesday, board member Dario Hunter said Diane Lease, chief legal counsel for the ODE, told Hunter that Benyo complained about Mohip's behavior in a telephone conference with Lease, state Superintendent Paolo DeMaria and John Richard, deputy state superintendent.
Hunter also cited a March 26 letter to Lease from Atty. Todd Lebowitz of Baker & Hostetler, the law firm Mohip hired to represent the school district in employment matters. In his letter, Lebowitz concluded, "... [W]e have no reason to believe any inappropriate conduct occurred ... "
Lebowitz's letter did not identify why any conduct was claimed to be "inappropriate" or what the conduct was.
Lebowitz said on March 26 he was "closing the investigation" and said he interviewed only Mohip and a "female attorney," who told Lebowitz she had "no complaints of any inappropriate conduct" by Mohip. And Mohip denied doing anything "inappropriate or unprofessional."
Lebowitz did not interview Benyo at that point, and his letter did not explain why he chose to close his investigation without interviewing the person – Benyo – who had filed the complaint and caused the "investigation."
In 2017, the school district spent $697,389 with Lebowitz's law firm, Baker & Hostetler. Mohip hired the firm to represent the district and has the authority to approve legal bills.
On Wednesday, Hunter questioned why the same law firm handpicked by the CEO would be asked to review complaints about the CEO's conduct.
"At every turn, when it comes to alleged violations, it appears that the wolves are guarding the hen house. There are little to no checks and balances, no real accountability – a fatal flaw built into HB 70," Hunter said.
Despite Lebowitz's conclusion of nothing "inappropriate" and reciting no specifics about what allegedly happened, Hunter said, "These allegations, if true, illustrate the abuse of power that can happen when you give one person total control of a district."
Benyo, who has refused comment to The Vindicator, made his complaint Feb. 28 according to ODE documents and then suddenly resigned March 2.
Benyo's resignation came amid a flurry of activity involving the school district in March. Two other commission members quickly followed Benyo and resigned. Mohip was then thrust into the spotlight as a candidate or finalist in three high-profile superintendent searches. He was either not selected or withdrew his application in all three cases.
The complaint about Mohip and his series of searches to find a job outside the state are just the latest incidents impacting city schools and the so-called "Youngstown Plan," formally known as HB 70. This is the mechanism that enabled a state-appointed academic distress commission to hire a CEO to lead the district and gives Mohip complete operational, managerial and instructional control – including over legal bills.
THE COMPLAINT
On March 1, the ODE wrote to Baker & Hostetler: "The department received a complaint from the chair[man] [Benyo] of the Youngstown Academic Distress Commission regarding the Youngstown City School District. As we discussed, the complaint made several allegations against the district and its administrator."
ODE asked the firm to review the allegations with the district and report the findings.
About 48 hours after reporting his complaint, Benyo resigned from the academic distress commission – an announcement made at 10 a.m. March 2. At the time, Benyo didn't mention the complaint, only saying resigning had been on his mind for some time.
"For anything to succeed in turning around any plan in improving education, one ingredient is a collective desire and effort to bring about that change, and I'm not sure we've accomplished getting to that point here in Youngstown," he said.
Jennifer Roller, the commission's vice chairwoman, resigned just three hours after Benyo. In her letter she said, "The state [Department of Education] would do well to exert itself as a strong partner, not only to empower and communicate in a transparent way with the CEO, but also key stakeholders, including the commission, the school board, students, parents and the many others who care about the future of the schools."
Roller said she was aware of the allegations "of behavior unbecoming the position," but her decision to resign "was based on many factors ranging from the need for more transparent communication and subject-matter expertise to the development and evaluation of shared goals."
Roller received an anonymous letter making "sweeping allegations about everything from Krish's management practices to his relationships in the workplace," she said.
She said she shredded the letter.
But Roller said that, when she resigned, she didn't realize Benyo had resigned or that anybody was investigating allegations about Mohip.
"I find these allegations to be very sad for all involved," she said. "The true focus of the Academic Distress Commission and its CEO should solely be the students and families of Youngstown City Schools."
REVELATIONS AND THREATS
Lebowitz's March 26 letter says Benyo's complaint declined to name the attorney or the job applicant who were the subjects of the impropriety he alleged.
"In conducting the investigation, we interviewed the female attorney whom we believe may have been the individual that the former chair was describing," the letter says. "[She] stated that she has no complaints of any inappropriate conduct by the administrator and she did not wish to make any such complaints." The letter said the female attorney characterized their relationship as professional.
Lebowitz did not explain how he came to conclude the woman he interviewed was the unnamed attorney in Benyo's complaint. His letter refers to her as "Ms. Doe."
The Vindicator did not confirm her name until she revealed it in her own statement issued to the press.
When The Vindicator asked district spokeswoman Denise Dick last Friday for a comment from Mohip about Benyo's allegations of "inappropriate conduct with a female attorney and/or job applicant," Dick shared a statement not from Mohip, but from Megan Bair Zidian, a shareholder/partner with Ennis Britton Co., LPA.
In 2017, Mohip approved fees totaling $208,310 to that law firm.
"I received a phone call from Atty. Todd Lebowitz, regarding a general complaint made to ODE against the CEO of Youngstown City Schools. When asked whether there had been any inappropriate conduct toward me by the CEO, I indicated that I have never experienced, witnessed or complained of any inappropriate behavior on his behalf," Zidian's statement said.
At that point, The Vindicator had not received any comment from Mohip.
Lebowitz used language suggesting Benyo had alleged the female attorney was a victim: "With respect to the concern raised by the Former Chair of any inappropriate behavior by the Administrator toward her, Ms. Doe said there was none."
But Zidian's law firm apparently interpreted Benyo's allegations differently.

On Friday, the Ennis Britton firm issued a statement through Dick that said in part: "We find it extremely unfortunate that innuendo generated at the hands of the former chairman of the Youngstown Academic Distress Commission would attempt to implicate the CEO in inappropriate conduct with one of our partners. The experience of our lawyers with Youngstown CEO Krish Mohip has been one marked by total professionalism and respect at all times."
It also claimed that publicizing the allegations would be a "blatant reputational offense," and that the allegations cast Zidian in a "false light" and aren't newsworthy.

Dick also said the firm would consider suing The Vindicator if the newspaper did not publish the firm's and Zidian's entire statements verbatim.
On Wednesday after Hunter's news release, Mohip finally issued a statement calling Benyo's allegation "baseless."
"The investigation into what amounted to nothing more than speculation and innuendo obviously found no wrongdoing," he said. "Still, Dario Hunter continues to harass and attempt to tarnish my character, and he doesn't care who else may be collateral damage."
Mohip also called the allegations "not just an attack on me but an attack on our students and families."
"This is just the latest mud they have hurled at me in an attempt to get something to stick, to destroy HB 70 and to regain control of the school district," he added.
Zidian also issued a new statement Wednesday night, saying "It is disappointing that innuendo is being used to drive a political dispute. Even so, I am happy that everyone who has reviewed these absurd claims has concluded that it is no more than tasteless gossip."
Zidian did not say what made the claims "absurd" or who, besides Lebowitz, had reviewed them.
In fact, while Mohip, Ennis Britton, Zidian, and Hunter each has issued public statements about Benyo's allegations, no one has specified publicly what Benyo actually alleged to be inappropriate.
In his press release, Hunter also encouraged Benyo to "speak up and speak out."
"If he felt strongly enough to make this complaint, I would hope that as a former chair of the ADC, there was something behind it," Hunter said. "Such a serious allegation from the chair of the body that hired Mohip shouldn't be swept under the rug."
THE INVESTIGATION
While Mohip had no comment late Friday, Lebowitz's letter said "[Mohip] made clear he had not received any complaints, formal or informal, alleging any inappropriate conduct or harassment, from any member of his staff or from any job applicant."
"Based on the information available, we have no reason to believe that any inappropriate conduct has occurred as alleged in the complaint. We, therefore, are closing the investigation with a finding of no inappropriate activity."
The ODE, however, responded April 5 requesting Lebowitz to interview Benyo "and supplement the response with the results of that interview and any additional interviews."
Lebowitz sent another letter to the ODE on Sunday reiterating his earlier conclusion "that we have no reason to believe that any inappropriate conduct occurred as alleged in the complaint" and the investigation will be open through this Friday pending additional information.
Lebowitz also said in his Sunday letter Benyo said "his intent in making the initial complaint was not necessarily to make a complaint, but rather to pose a 'question' to the ODE as to the possibility of an inappropriate relationship." Further, the basis for Benyo's question was "speculation" Lebowitz's letter says, as Benyo "did not have any firsthand knowledge to support that speculation."
RECENT TIME LINE
The time line of events that followed Benyo's Feb. 28 letter to ODE reveals much activity surrounding the school district.
Benyo resigned March 2. Roller resigned a mere three hours later.
As a result of the resignations, DeMaria assigned Richard, who was once a commission member, the responsibility of supporting the work of the academic distress commission until a new chairman is designated.
By March 5, Mohip was a finalist for a superintendent position in Boulder Valley School District in Colorado.
Distress Commission member Barbara Brothers, appointed by former Mayor John A. McNally, joined Benyo and Roller by resigning March 7, leaving the commission with two remaining members, Nick Santucci and Vincent Shivers.
On March 15, The Vindicator reported Mohip was a finalist for the superintendent's job in the Fargo, N.D., school district.
On March 21, it was discovered Mohip was a candidate for a third school district superintendent position in Osseo schools in Minnesota.
Mohip was not selected in Boulder or Fargo. He withdrew his candidacy from Osseo on March 28.
More like this from vindy.com