Dem governor candidate Dennis Kucinich says he's a centrist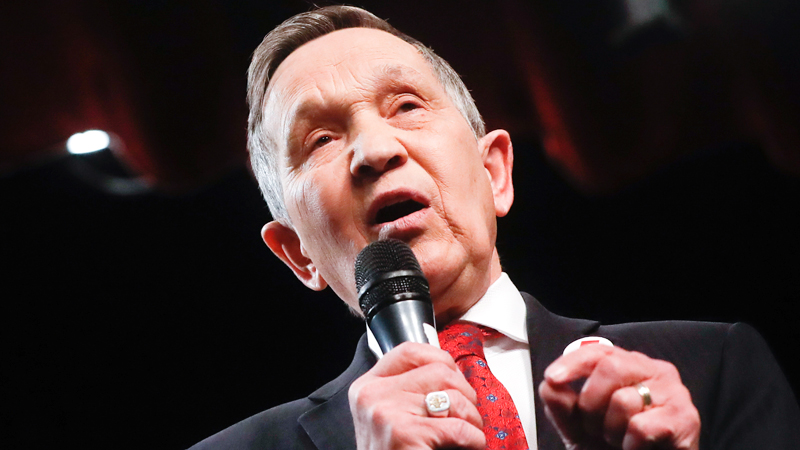 ---
YOUNGSTOWN
Long considered one of his party's more liberal members, Democratic gubernatorial candidate Dennis Kucinich said he's actually a centrist.
During a Tuesday endorsement interview with The Vindicator, Kucinich, a former congressman and Cleveland mayor, said: "You see this table? The line that runs down the middle is the center. I am basically in the center of this table that is Democratic and Republican [on either side]. I'm in the center. I'm a centrist. This is the moment to finally elect someone who can bring people together from the left and the right, Democrats and Republicans, for Ohio and not to let some gang run the Statehouse. I'm not about that."
He added: "To some people, I'm a liberal. To others, I'm libertarian. To others, some of my policies might seem to be fiscally conservative. But to me, I'm an Ohioan. I deal with each issue based on its reality and the practical aspirations of people.
"Ohio is looking for leadership that is not ideological, but is pragmatic, that is not driven by party consideration, but has an independent view of things to bring people together."
Kucinich says he supports a focus on reviving manufacturing, banning assault weapons, legalizing recreational marijuana, banning fracking, restoring Local Government Fund money and increasing the minimum wage to $15 an hour for state workers and for workers of companies with state contracts.
"What's extreme about jobs for all, health care for all, education for all?" he said. "What's extreme about wanting clean air and clean water? When we start to think that's extreme, then we've created a new normal which is pollution, which is unemployment, which is people going broke because they can't afford to take care of their health, because people are being deprived of education."
Also running in the Democratic primary for governor are state Sen. Joe Schiavoni of Boardman, former Ohio Supreme Court Justice Bill O'Neill and Richard Cordray, a former state treasurer and attorney general.
Kucinich criticized his political party, saying it compromised its integrity by "getting in bed with corporations."
Kucinich said, "I'm a man of the people. I represent what I think is emerging as the center of the Democratic Party. It is an expression of empowering people. I'm very much in the center of where the party is."
More like this from vindy.com