Girard FIRST Robotics team qualifies for world competition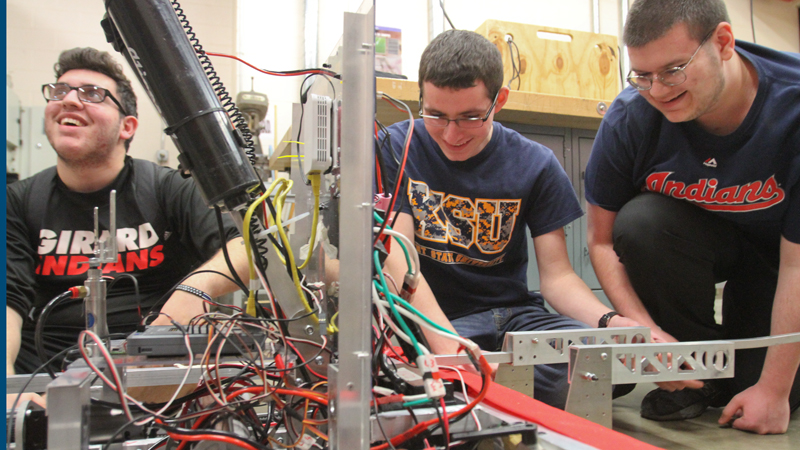 ---
GIRARD
The FIRST Robotics Delphi Team #379, "The RoboCats," qualified for the world robotics competition at Ford Field in Detroit on April 25-28.
Team members are working on raising about $6,000 more to pay competition, travel and lodging fees.
"They do all of their own fundraising," said Judy Barber, head coach. They are planning the project, they are planning the travel, they learn presentation and real-life skills. It's more than just the robots. They work really hard, and it pays off."
The team competed at the Buckeye Regional in Cleveland in March and won the Finalist Award for leading the alliance that finished in second place in March, which qualified the team to enter the FIRST Robotics Competition.
This is the fourth year the team is vying for a championship.
"It's one of the greatest feelings to see your ideas, and see what everyone put together, actually function and do so well," said Avery Tinkey, a senior on the build team.
The team won the Gracious and Professionalism award at the regional competition.
This year's FIRST Robotics competition challenge is to create a robot, controlled by two students, that can pick up milk crates and stack them on a teeter-totter. They work with their alliance to stack the most on their side.
"They've dedicated a lot of time and effort. They put a lot of hours into this," said Ashraf Hadi, head build coach.
The RoboCats were given six weeks to create their finished product. Tinkey said they worked on the robot daily, sometimes until 10 p.m. to put on the final touches.
"This experience has definitely influenced my major and what I am going into. I think it gave most of us a path," Tinkey said. She plans on studying mechanical engineering.
Competing on RoboCats takes more than just engineering skills. Students who don't build and program the robot stay busy fundraising, budgeting and acting as the public-relations team.
"There's a role for everyone," Tinkey said.
Senior Ian Kenneally said they raise money year-round to pay for about $20,000 in fees.
All students benefit from the people skills and communication skills they learn as they work with teams from all over the world and make presentations to judges.
Tinkey said she has made friends from other countries, including Mexico and Israel, through the competition.
Girard alumni serve as team mentors.
Barber said these alumni have gone on to work for science and engineering companies including NASA, and others have gone into public relations and journalism after working on the RoboCats public-relations team.
Ron Robinson is one notable mentor who graduated from Girard and donated money for scholarships for the RoboCats.
"Both the students and mentors have been amazing. This has been the best decision I made. We are like a family," said senior Alex Abruzzi.