Capturing the hearts and minds of American wine lovers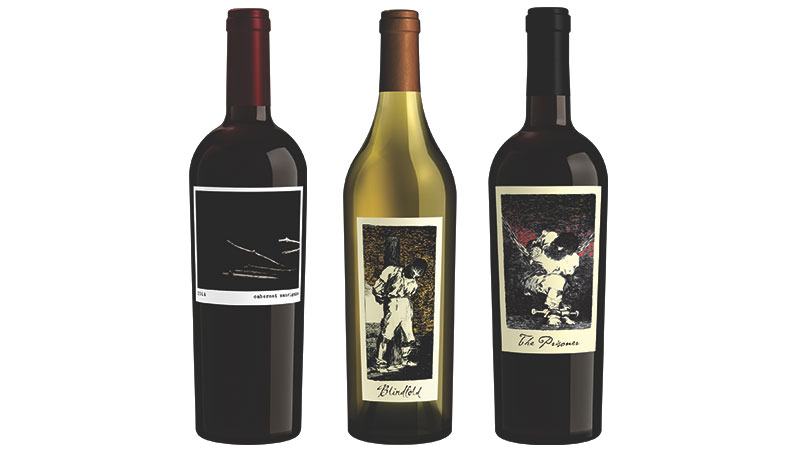 ---
By Brian Fry
(add valleyvino email here)
Few wines in the past 20 years have captured the hearts and minds of American wine lovers like The Prisoner did beginning in 1998. I was just discovering wine in those days and was not in the industry yet, but I certainly remember how quickly The Prisoner caught fire.
The brand was created and launched by Dave Phinney as part of his Orin Swift label. A lot has changed over the 20 years as Phinney first created separate companies for Orin Swift and The Prisoner Wine Co. and then sold them off and started new projects.
Orin Swift is now owned by the giant EJ Gallo Co. The Prisoner Wine Co. was first sold to Augustin Huneeus Vineyards for $40 million in 2010 and then was purchased by Constellation Brands for $265 million in 2016. Constellation is one of the largest purveyors of wine, beer and spirits in the world.
Phinney's vision for Prisoner Wine Co. was based on owning very little or no vineyard land, but instead relying on long-term relationships and contracts with some of California's finest grape growers.
Constellation's large investment was a bet on its ability to utilize the relationships with California's growers and mix in a few vineyard sources they owned to renew and revive The Prisoner Wine labels.
The results so far are nothing short of exciting. I had the chance to sit down with Ken Abraham, Constellation's Midwest director, and taste through the current vintages of several Prisoner Wine Co. wines. The portfolio is continually evolving with new offerings mixing with established favorites.
Abrahams was energetically optimistic about the direction of The Prisoner Wine Co., especially the leadership of director of winemaking Chrissy Wittman. She manages a team of diverse winemakers, but perhaps her greatest strength is managing the relationships with the vineyard partners that are so critical to the success of The Prisoner Wine Co. Wittman has high praise for the team:
"This is a fantastic team [of growers and winemakers]. Everyone brings something unique to the table, but at the end of the day, passion for our wines brings us together.
"We are minimalists and believe it's up to the grapes to do their thing. It's our job to provide the best environment for them to do so … Ultimately, all of the wines and their related vineyards have their own personality, and we work hard to let each one express itself in the best way."
Here is a look at four wines from The Prisoner Wine Co.:
2015 Blindfold White Blend – $30
Aromas of citrus, peach, vanilla and nuts. Clean and refreshing citrus flavors intermingle with butterscotch on the finish.
2016 Saldo Zinfandel – $32
Aromas of cherry, anise, black pepper and baking spices. The palate is savory with bright red fruits, baker's chocolate and a velvety finish.
2016 The Prisoner Napa Valley Red Wine
The classic blend of Zinfandel, Cabernet, Petite Syrah and Charbono. Aromas of Bing cherry, cloves, roasted fig and cocoa. Flavors of ripe raspberry, pomegranate and French vanilla integrate harmoniously.
2015 Cuttings Cabernet Sauvignon
Aromas of fresh roasted coffee, currant, brown spice and wild berries. Deliciously smooth flavors of blue fruits, black cherry and toasty oak.
More like this from vindy.com