HB 70 sponsor visits to see results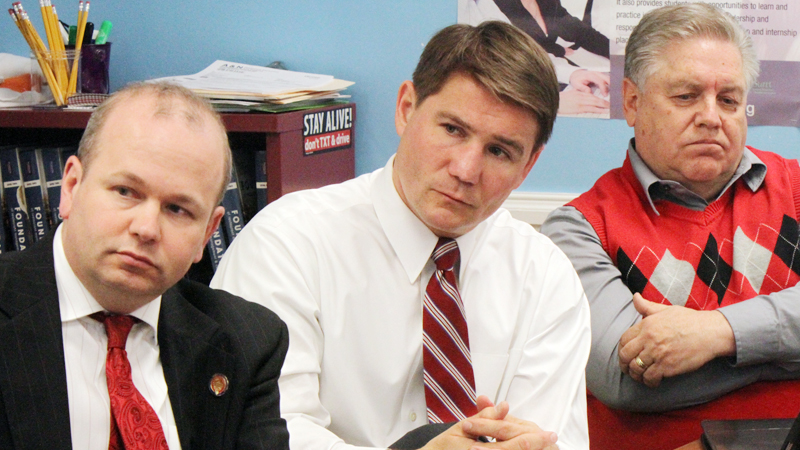 ---
By GRAIG GRAZIOSI
ggraziosi@vindy.com
YOUNGSTOWN
State Rep. Andrew Brenner, sponsor of House Bill 70 and the chairman of the state's House Education Committee, participated in a roundtable discussion at Choffin Career & Technical Center with local lawmakers, education officials and community activists to discuss the "Youngstown Plan" and whether it has been successful.
Among those in attendance Monday were state Reps. Michele Lepore-Hagan of Youngstown, D-58th, and John Boccieri of Poland, D-59th, as well as Youngstown school board members Brenda Kimble, Dario Hunter and Jackie Adair.
More than 20 school districts across the state face potential takeover after receiving failing grades on state report cards.
Brenner of Powell, D-67th, said he was looking for insight into why the Youngstown Plan was never fully accepted by the full education community.
The plan, which Gov. John Kasich signed into law in 2015, enables a state-appointed academic distress commission to hire a CEO to lead the district. The bill gives Youngstown CEO Krish Mohip complete operational, managerial and instructional control.
"We wanted to come up and see what hasn't worked and what we can change, and why the city hasn't bought into the plan," Brenner said.
Adair responded that the school board never bought into the plan because the plan excluded them.
"We were left out at every level," she said. "You don't 'buy in' unless you're included."
The Rev. Kenneth Simon, a community leader and pastor of New Bethel Baptist Church in Youngstown, told Brenner any changes to the plan going forward needed to consider the input from Youngstown "stakeholders." Brenner began to say the original discussions that formed HB 70 included stakeholders from the city, but the Rev. Mr. Simon cut him off.
"No, I mean stakeholders from Youngstown. There were no parents of our students, no school board members, no teachers in that group," he said.
The group of eight that helped develop the Youngstown Plan included Youngstown State University President Jim Tressel, Laura Meeks, then-Eastern Gateway Community College president, and Tom Humphries, who was president of the Youngstown/Warren Regional Chamber.
Both Mr. Simon and Lepore-Hagan suggested an initial draft of HB 70 that included "wraparound" services built into the schools – such as health care, food and family counseling – would be a better model for use in Youngstown.
They cited the Taft Promise Neighborhood and schools in Cincinnati as successful examples of communities with wraparound services.
"We need to deal with the barriers these students face. The original bill's wraparound services addressed these barriers," Mr. Simon said.
For Hunter and Adair, their primary criticism was the Youngstown Plan lacked accountability and local input.
"There has got to be meaningful community buy-in and investment in making sure that people in Youngstown feel empowered to make change themselves," Hunter said. "You're here now because the plan you tried to create without us is failing miserably."
Schools Superintendent Joe Meranto said the failures in the district were a result of the middle class abandoning the schools, with families who can afford to move their students out of the district doing so thanks to programs such as open enrollment.
"Who will educate the kids no one else wants to? We will. I will. But let's not compare districts," Meranto said. "It's not a race issue or a union issue. It's a poverty issue, and we need to talk about what we can do to fight that. Even if you [Brenner] don't help us, just don't hurt us."
Brenner thanked the group for participating and said he would be in touch in the future.
Nick Derksen, a majority policy adviser in the Ohio House, took notes on the meeting and said the input offered would be among that considered in future policy recommendations regarding state education.

More like this from vindy.com