YSU HIGH JUMPER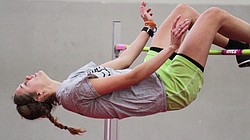 Video
YSU high jumper Abby Jones talks about her sport.
Jones embraces sunshine, tops herself twice
By Brian Dzenis
YOUNGSTOWN
The pieces were there for Youngstown State's Abby Jones to have a big weekend.
This past weekend at the Westminster Invitational in New Wilmington, Pa., it was the first time all season the junior high jumper was ablie to compete in sunshine. Rain marred the Florida Relays and the Raleigh Relays and pushed the Northeast Ohio Quad in Akron indoors earlier in the season.
There was little pressure to perform at a high level as the Invitational featured mostly Division II and III athletes who had no shot of catching the Penguins' record-holder in the event.
Healthy, dry and relaxed, Jones proceeded to have a special day, setting a new school record twice in the two-day invitational. Her second jump of 1.73m beat the previous record — also a Jones jump — of 1.71m. Her third try reached 1.75m or 5 feet, 8.75 inches. The jump was her goal for the season and she still has another month left of competition.
"I was definitely happy, but it doesn't hit you right away," Jones said Monday. "As soon as I made it, I knew it would qualify me for [NCAA] Regionals and I was relieved about that."
Jones' jump has her tied for No. 21 in her region and tied for No. 39 across the entire NCAA.
"She's got a pretty consistent mark to get into the NCAA regionals, but we're going to keep aiming. That's what makes us competitors," YSU jumps coach Katrina Brumfield said. "I would say she has a pretty good chance that she gets in because that's the mark that gets taken in."
Jones is coming off an indoor track season where she won the Horizon League title and set the school record at 1.74. Managing her heath has been key to her success.
"Every year that she's been here, she's had little naggy things with her back and a lot of it is genetics — she's 6-1. There's been some things that we've been working with and trying to figure out the right system," Brumfield said. "The tribute to her success this year is trying to manage everything and making sure we're doing the right things in the training room and weight room and everything is starting to pay off for her."
Part of the routine is introducing a different element to her pre-jump routine, something Brumfield colloquially calls "making a track angel." Laying down in a position similar to a snow angel, Jones decompresses.
"I just lay down flat on the ground and catch my breath a little bit, I just relax myself," Jones said. "Coach always tells me to rest before my next jump and I kind of want to be high-tempo and jump all the time. I just breathe and focus on my technique for the next jump.
"It definitely helps [my back] to stretch out."
Jones next goal is repeating as the Horizon League outdoor champ and if the numbers stand up or improve, she'll take home the League record in the event.
And she'll be getting there ahead of schedule.
"I definitely have goals. When I made 1.75m this weekend I was like 'what do I do now?'" Jones said. "Now it's time to look forward to what I'll do next."
More like this from vindy.com