---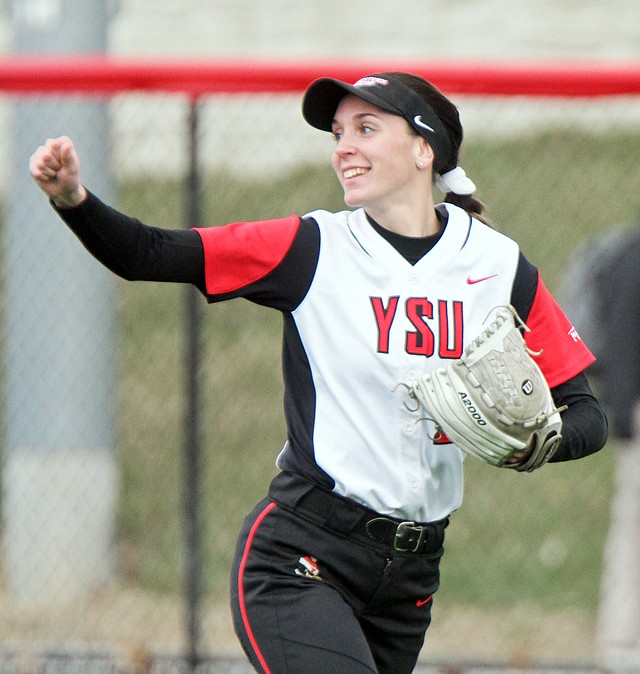 By Brian Dzenis
YOUNGSTOWN
It's always been a crowded outfield with Youngstown State's softball team.
In the last two years, junior Lexi Zappitelli took a back seat to Sarah Dowd, the program's all-time leader in home runs and RBI, Cali Mikovich, who's among the program's best across several hitting categories and current centerfielder Hannah Lucas.
With Dowd graduating and Mikovich going down with an injury in the preseason, the Conneaut graduate was asked to step in and she's done more than enough to hold down her spot.
She headlines a Penguins squad that is currently putting on a hitting clinic in the Horizon League. Zappitelli's numbers are also among the best in the nation.
"She's a wonderful young lady and when you look at her last couple of years, she took the oppurtunity to learn. When she got her chances, she went in there and did the best she could, always working hard when she got out there to baserun or had a chance to bat," Penguins coach Brian Campbell said. "This is the first year that she had the door open and she was ready because she did all the right things and took the right steps for the first couple of years."
Zappitelli has a healthy lead on the League in batting average and on-base percentage at .442 and .538, respectively. Across the NCAA, Zappitelli ranks No. 11 in batting average and No. 9 in OBP.
"It's really cool, but I try not to think about. I just try to get on base and all that matters is wins," Zappitelli said. "If you don't get wins, the stats don't really matter."
YSU was the first Division I school to offer Zappitelli and she jumped at the chance. She comes from an athletic family. Her mother, Dawn, is in the Hiram College Athletic Hall of Fame for volleyball and her father, Mike, played basketball at Conneat. His cousin, Matt, is one of Ashtabula County's all-time leading scorers in boys basketball. Her sister, Angie, played softball for John Carroll.
Like her own softball achievements, Zappitelli tries to keep her pedigree in the review mirror.
"I try not to think, when I do, things don't usually go my way," Zappitelli said.
What's helping keep the breakout season out of her mind is that she isn't alone in producing. As a team, YSU (16-20, 6-6) is the League's highest-scoring offense, leading it in runs (167), hits (275), RBI (141), doubles (47), home runs (20), batting average (.291), on-base percentage (.373) and walks (115).
Another YSU outfielder is also having a breakout year in Yaz Romero. The freshman is one hit behind University of Illinois-Chicago's Lexi Watts (49) for the most in the League and leads the team in stolen bases with ten.
"It's pretty nerve-wracking, but I knew coming in that I had the mindset of 'there's no pitcher that I will fail on' I know I can hit anything," Romero said. "I've got this far. I played in big tournaments in California with girls going to big schools. I'm not going to see anything that I haven't seen."
Romero is confident but also not afraid laugh at herself. During a March 30 contest against Detroit Mercy, she fell over in the batters box trying to lay down a bunt. She finished the at-bat with a strikeout in what became a 4-0 loss.
"I put (a video of the fall) up on twitter because I knew everyone would have a laugh about it," Romero said. "It spread pretty far too. I would have laughed so much harder if I got on base, but after I struck out, I was so angry."
When she posted the video of her pratfall, her caption was "if Monday was an at-bat."