Whispering Pines honors Eagle Scouts, volunteers
BOARDMAN — By SAMANTHA PHILLIPS
sphillips@vindy.com
The Whispering Pines District of the Great Trail Council, Boy Scouts of America hosted its 2018 District Recognition and Awards dinner Sunday evening at St. James Episcopal Church.
This year, 22 scouts who earned the Eagle Scout Award, the highest rank in scouting, were recognized.
The scouts who earned the honor in 2017 are:
Austintown Troop 184: Kyle Scott.
New Springfield Troop No. 119: Joshua Cain, Max Seymour, George Conrad IV, Eric Swansiger and Zach Swantek.
North Lima Troop No. 80: Blake Sitch and Thomas Joly.
Boardman Troop No. 60: Nikolas Peters, Daniel Raver, Devin Patton, Trevor Gill, Benjamin Burkey and Christian Pintol.
Poland Troop No. 2: Josh Porter, Victor DiTommaso and Diego Calderon.
Struthers Troop No. 101: Nicholas Locke.
Canfield Troop No. 115: Justin Neff, Drake Safranic and Luke Bowser.
Youngstown Troop No. 9055: Isaac Coxson.
One requirement to become an Eagle Scout is to plan a community project, recruit volunteers and raise funds. Coxson, for example, ran a community instrument drive in Hubbard. His efforts brought 20 used instruments for Hubbard students to use.
Whispering Pines Boy Scouts Awards Dinner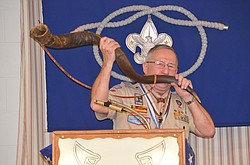 Gallery
The Whispering Pines Boy Scouts held their recognition dinner at St. James Episcopal Church in Boardman on Sunday, April 15, 2018. Photos by Scott Williams - The Vindicator
The Best Trained Unit Award was presented to leaders of units No. 2, No. 25, No. 101 and No. 184.
The Den Leader Training Award was presented to Albin Dearing, Robert Weber, Patrick Gaia and Nichole Day. The Cub Scouter's Training Award was presented to Nichole Day, Matthew Feely and Albin Dearing. The Scouter's Training Award was presented to Alex Gabriele.
The Wood Badge award, which is granted adults who pass the leadership program, was given to Stefanie Williams, who was given the ceremonial beads and handkerchief.
The Family of the Year Award was given to the Cook family.
The National Eagle Scout Association Outstanding Eagle Scout award was presented to Richard Shale, a former Eagle Scout and an English professor at Youngstown State University.
Scoutmaster of Year was awarded to Anthony DiTommaso with Troop 2.
The District Award of Merit, the highest award given to a person who is devoted to scouting, was awarded to John Russell and Jim Pearce.
Cheryl Wormley received the Silver Beaver Award, a council-level distinguished service award.
More like this from vindy.com