Valley runners race in crown jewel of marathons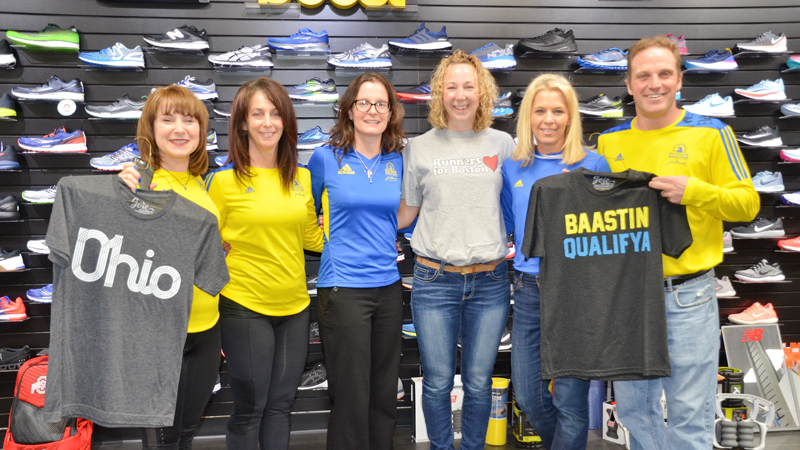 ---
YOUNGSTOWN — By JORDYN GRZELEWSKI
jgrzelewski@vindy.com
Every morning for the past several years, Becky Rudzik of Poland has touched the "Boston Strong" bracelet she keeps near her sink.
It's a small but powerful reminder of a dream that today will become reality: Running in the Boston Marathon, which Rudzik describes as the "crown jewel of marathons."
Locals Running in the 122nd Boston Marathon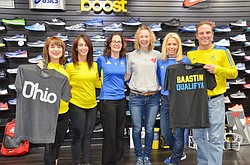 Gallery
These six local runners are part of a group competing in the 122nd Boston Marathon on Monday, April 16, 2018. Photographed here are: Sandy Manley, from Boardman; Christine Russo, from Canfield; Amanda McNinch, from Boardman; Becky Rudzik, from Poland; Kathy Boyarko, from Boardman; and Robert Vogt, from Salem. Photos by Scott Williams - The Vindicator
"I think anyone who runs marathons, the goal is eventually to get to Boston," she said.
"If you are a runner, that is where you want to be that day," agreed Sandy Manley of Boardman, who also will run in the marathon.
They are among several runners from the Mahoning Valley who have made it there. Among the Valley participants are Rudzik, 47; Manley, 48; Amanda McNinch, 38, of Boardman; Christine Russo, 52, of Canfield; Kathy Boyarko, 47, of Boardman; and Robert Vogt, 34, of Salem.
It marks the first time Rudzik and
Boyarko will run the race; the second time for McNinch and Vogt; the fourth-consecutive time for Manley; and the fifth-consecutive time for Russo.
The prestigious race draws more than 30,000 participants, who must qualify by running another marathon within a designated amount of time. Participants spend months training for the big day.
For Rudzik, that meant "a lot of long hard miles on cold, miserable days running with my hubby when we would rather be sitting on the couch warm and cozy."
Manley ran three days per week and cross-trained. McNinch said she logged nearly 700 miles since Jan. 2. Russo's training lasted 18 weeks, during which she trained at different distances, terrain and paces, she said. Boyarko ran four days a week, cross-trained twice a week and incorporated hills into her workouts. Vogt dedicated himself to a high-mileage training regimen.
All are motivated and inspired by different factors. For some, the prestige of the race made it their dream to run it. Boyarko said she was inspired by her best friend, who qualified to run it years ago, but died before the marathon.
"I promised her I would qualify and run it for her and have been trying to qualify since then," she said.
With the grueling nature not only of the 26.2 mile race, but of the months and sometimes years preceding it, they all have things that help them push through the challenges.
"When running feels challenging, I try to remember how blessed I am to be able to run," Boyarko said. "As a physical therapist I have worked with many people with injuries and amputations who can't."
Manley thinks of her mother, who died a week before Manley's first Boston Marathon.
Rudzik thinks of her children and husband. The bracelet on her sink keeps her going, too.
"Every time I want to quit, I think about how much more I want to finish Boston," she said.
More like this from vindy.com