James Vint fatal fire case closed unless new info arises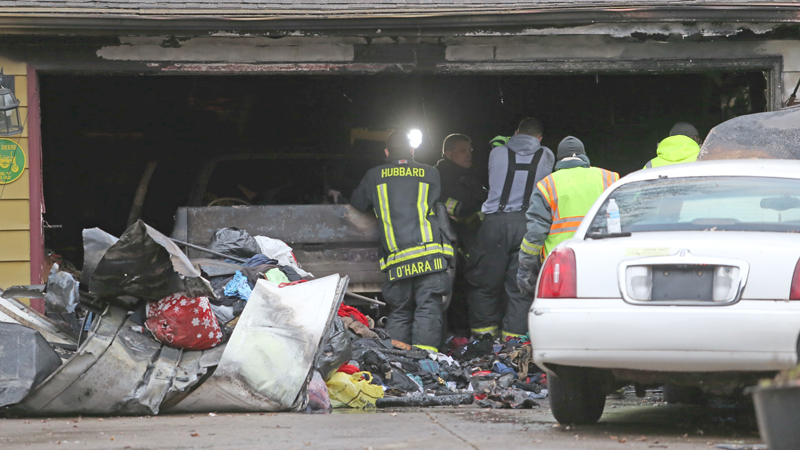 ---
By SAMANTHA PHILLIPS
sphillips@vindy.com
HUBBARD
Five months after the fatal fire that killed James Vint and destroyed his family's garage, state investigators still can't determine the source of the blaze.
The Nov. 22 garage fire was just days after the Nov. 16 fire that destroyed Vint's home at 434 Simler St.
The Ohio State Fire Marshals released a report on their investigation into the fires Monday.
The Nov. 16 fire destroyed the Vint family's home. While the family escaped, three dogs and one bird died of smoke inhalation. State investigators determined the house fire was caused by a faulty freezer line in the sunroom.
In the Nov. 22 fire, Vint died of smoke inhalation after a fire broke out as he sorted donated clothing from a fundraiser geared toward helping the devastated family.
Hubbard family starts down long road to rebuilding by Samantha Phillips
Angie Vint, James' wife, told investigators she dropped her husband off at the garage to sort through the clothes Nov. 22.
She called her husband about 2 p.m. while at a bank on West Liberty Street, just a few minutes away from the house, to tell him she was picking him up so they could sign papers to get temporary housing, Vint told The Vindicator on Monday.
She went straight to the house to see smoke coming from the garage, she said. The door was locked.
Angie Vint called 911 as she tried to kick the door down.
Robert Thompson, Hubbard police officer, was the first on the scene. He stated in a police report he kicked down the door, but the flames and smoke were too strong to go inside.
He called for James Vint, and said in the report he could hear him yelling for help.
Thompson believed the man was trapped.
"He was the love of my life. I kept screaming his name. We couldn't get to him; the fire was right there," Angie Vint said. She thanked Thompson for his efforts to try and save her husband.
The coroner's report stated there was no electricity in the garage when the second fire occurred.
"It was found that the decedent was using alternative methods of light and heat. ... It was also found that the garage contained numerous accelerants, and the fire source/heaviest fire damage was located between the available exits and the location of the decedent when found, which trapped the decedent from being able to exit the garage," the coroner's report stated.
The investigator's report said the donated clothing, a portable generator, a portable air compressor and two-shelf metal cart on wheels may have blocked his exit.
The case is closed. It will be reopened and re-evaluated should new information arise, the fire marshal's report said.
The state fire marshal's office wasn't available to comment Monday.