Eight Valley teachers win awards at OH WOW! gala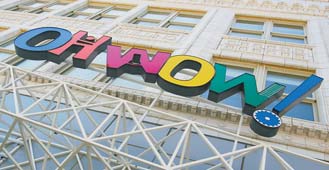 ---
YOUNGSTOWN — By Sean Barron
Andrea Reed prides herself on her ability and willingness to adapt her teaching methodology and curriculum to fit her students' needs and learning styles – everything from those who are struggling to those who are excelling.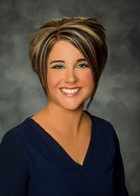 Photo
Austintown Local Schools
Andrea Reed is an 11-year Austintown Fitch High School language-arts teacher.
"You have to differentiate your instruction for different children as a way to present the material so you can reach as many students as possible," the 11-year Austintown Fitch High School language-arts teacher explained.
Suffice it to say that her approach continues to pay dividends, because she was among eight area instructors who received District Teacher Awards during Saturday's Mahoning Valley Teacher Appreciation Gala and Reunion at OH WOW! The Roger & Gloria Jones Children's Center for Science & Technology downtown.
Serving as moderator was Madonna Chism Pinkard, director of community relations for 21 WFMJ-TV.
Reed also was honored for her work as the school's speech-and-debate team coach, which recently saw 32 of its 55 members compete at the state level. She uses essentially the same set of teaching characteristics with the team as she does in the classroon: creating a safe environment that allows her students to showcase their talents and abilities, while helping them develop skills to better succeed in college and in seeking employment.
In addition, the National Speech and Debate Association recognized Reed as one of the top 5 percent of speech coaches in the U.S., Superintendent Vincent Colaluca noted.
Delivering the keynote presentation to an audience of about 200 educators, elected officials and others was Robert G. Danage, chaplain of the Texas Department of Criminal Justice and a 1977 Warren G. Harding High School graduate.
"I'm a living, breathing example of what you do every day," Danage told the attendees. "If America is to become greater than it already is, it depends on you, teachers."
Danage fondly recalled the imprints several of his teachers had left on him, which included helping him develop the ability to better express himself and further appreciate this country and its history. The chaplain also remembered certain struggles he had growing up and said he remains grateful to one of his teachers who took him to a Warren restaurant for a hot dog and to "help me learn math."
Danage noted that most of the inmates he's counseled over the years reveal a major reason for their predicament is that they failed to pay attention in school. He also encouraged teachers to continue to make positive impacts on their students' lives, despite often having to contend with shrinking budgets and negative politics.
"You're inspiring young minds," Danage said. "What my teachers did for me, you certainly can do for your students."
Certain teachers also left an indelible mark on Mayor Jamael Tito Brown, including one at Covington Elementary School whose collaborative approach "taught me boundaries, taught me cooperation," he said. Brown's mother also was pivotal in instilling in him the importance of higher education, he continued.
"You are helping us as parents in raising our kids," added state Sen. Joe Schiavoni of Boardman, D-33rd. "We want to get your feedback to make our schools better for you and your students."
Making additional remarks were Suzanne Barbati, OH WOW's president and executive director; Dr. Charles Howell, dean of Youngstown State University's Beeghly College of Education; Jon Howell, a community activist and the event's organizer; Judge Theresa Dellick of Mahoning County Juvenile Court; and Judge Anthony D'Apolito of Mahoning County Common Pleas Court.
More like this from vindy.com