YSU Relay raises $10K-plus for American Cancer Society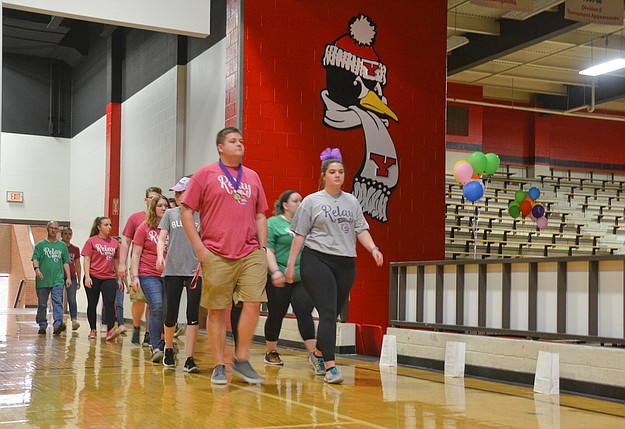 ---
YOUNGSTOWN
Some had lost family members to cancer.
Others knew friends, classmates or acquaintances who had been affected by the disease.
Others knew survivors or were survivors themselves.
Relay for Life at YSU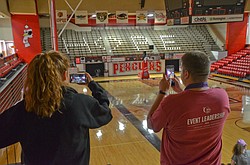 Gallery
Youngstown State University hosted a Relay for Life event at Beeghly Center on the campus of YSU on Saturday April 14, 2018. Photos by Scott Williams - The Vindicator
All were among the participants in Youngstown State University's Relay for Life on Saturday at Beeghly Center.
The event, which had a carnival theme this year, raised more than $10,000 for the American Cancer Society.
"It's to raise money, not just for cancer research, but the American Cancer Society also provides money for transportation to treatment, things like that," explained event leader Ben Dalrymple.
The relay ran from noon to 8 p.m. It featured games, performances by YSU's hip-hop team and an a capella group, as well as the event's luminaria ceremony, which honors survivors, people currently fighting cancer, and loved ones lost to cancer. The luminarias spelled out "Hope" on Beeghly Center's bleachers.
Among the participants was YSU student and resident assistant Francesca Frazeskos, who organized a team representing the university's housing and residence life. Frazeskos has participated in relays before and knows several people affected by cancer. Her grandmother is a breast-cancer survivor.
Sydney Negro, a member of the engineering sorority Phi Sigma Rho, has numerous family members who have died of cancer or experienced it.
The team set a goal of raising $1,000, and ended up getting more than $3,000, thanks in part to a donation from Ohio Star Forge, Negro said.
YSU students Maddie Sanders, Gianna DeToro and Leah Tekac volunteered as members of the event leadership team, inspired in part by a friend who survived cancer.
Tekac said she also was inspired to get involved because she lost three grandparents to cancer.
The women said they also were motivated to volunteer because of what the event means to community members who have battled cancer.
Participants and organizers urged others to get involved in future events. For more information, visit www.relayforlife.org/youngstown.
"The end goal is to live in a world with more birthdays and where no one has to hear your loved one has cancer," Dalrymple said.
More like this from vindy.com