Locals are part of rugby team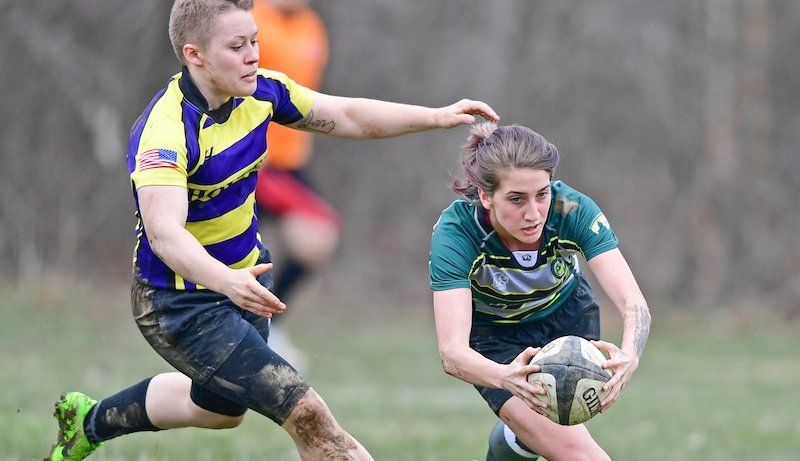 ---
Rugby in Youngstown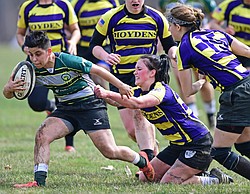 Gallery
There was a rugby match in Youngstown on Saturday, April 14, 2018. Photos by David Dermer.
By Dan Hiner
dhiner@vindy.com
YOUNGSTOWN
The results were mixed for the Allegheny Rugby Union's 15 select women's team in the Midwest Local Area Union playoffs.
Allegheny played two tournament games Saturday at Bailey Park.
The Bears beat Indiana 61-0 in their first-round game, but lost 29-10 to Ohio in the Eastern Conference title game.
The team's roster consists of players come from eastern Ohio and western Pennsylvania. A few Youngstown State students were a part of the playoff roster.
YSU sophomore Hannah Hall and freshman Kiya Miller both scored in the first game. But Miller's playing time was limited in the second game due to a hamstring injury.
YSU freshman Megan Feldhouse also plays for the team as well as Steel Valley Rugby Club's Renee Whittenberger and Alida Fausnight.
Allegheny Rugby Union head coach Rebecca Trapp is also the assistant head coach of the Youngstown State team.
Trapp said the goal of the program is to learn and bring their experiences back to their club teams.
"The whole goal for why we do this thing is to put these girls under pressure sooner and younger," Trapp said. "That way their developing their game to come up to this level sooner rather than later.
"So if they're coming up and getting this sort of experience at 19 or 20, imagine what they're gonna be at 24 or 25 and playing for a senior women's club."
Ohio advanced to the second round with a 39-0 win over Michigan.
Allegheny jumped on Indiana early and kept control of the ball throughout the game. However, the Bears weren't getting as many loose balls against Ohio.
Ohio also got the ball to the edge frequently in the first half, and outran the Bears' defense along the sideline.
Miller said the Bears didn't communicate well in the second game and Ohio took advantage.
She said the team didn't look for openings in the Ohio defense and the four-hour break in between games didn't help.
"It's really hard to get back into it," Miller said. "The field got even worse. Even Ohio messed up too because the field was so awful. You gotta do what you gotta do. You just gotta keep going."
In addition to problems with the field conditions and communication, the Bears also suffered a few injuries during the second game.
"We had a few key players that kept some injuries hidden, as they do because their pride gets in the way," Trapp said. "They weren't moving quite as quick as they wanted to."
The Bears were a young team. Their roster consisted of freshmen and sophomores.
Feldhouse didn't play rugby before coming to YSU and began playing in October.
"I think it helps bring connections that you wouldn't necessarily get on campus all the time," Feldhouse said. "It's important to go out in the world a little bit when you're starting out, being an adult.
"You kind of find your bubble and stay in it. Rugby's done a good job of getting [me] out of the bubble."
Hall is also the club president of the YSU rugby team and thinks the program is growing.
"We have several recruits coming in and our coaches are doing such good work with us," Hall said.
"We had a volunteer activity in Youngstown with the Boys and Girls Club. We have a lot of things going for us right now."
More like this from vindy.com