Holocaust memorial stresses lessons learned from atrocities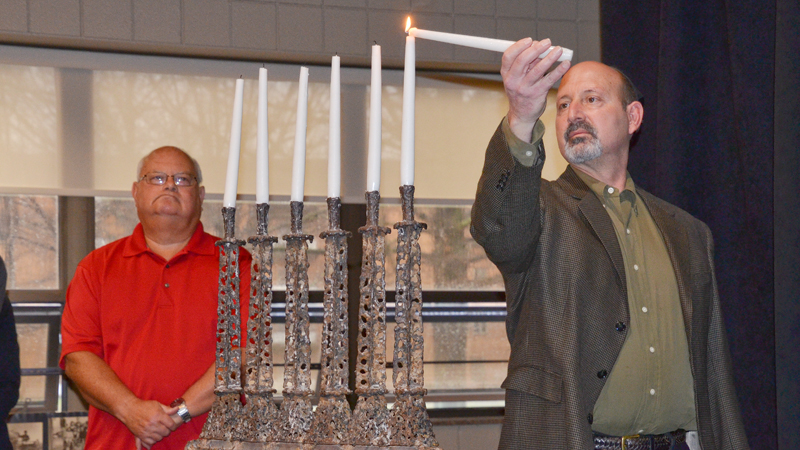 ---
By SAMANTHA PHILLIPS
sphillips@vindy.com
LIBERTY
As the number of living survivors and concentration-camp liberators diminishes, their family members work to tell their stories and preserve history.
Rabbi Joseph Schonberger and Rochele Miller, chairpersons of the Holocaust and Education committee, are children of Holocaust survivors. Schonberger said it's alarming how many people don't know about the Holocaust and the lessons humanity learned from it.
Shoah Memorial Ceremony at the Jewish Community Center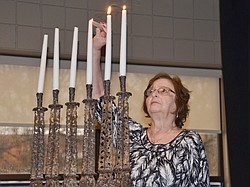 Gallery
A Shoah Memorial Ceremony was held at the Jewish Community Center on Sunday, April 15, 2018. The theme was "Anti-Semitism in all its forms." Photo by Scott Williams - The Vindicator
"We want to face evil and do something about it, promote human decency," he said.
Schonberger and Miller were among many relatives of survivors who attended the 25th annual Shoah Memorial Ceremony on Sunday at the Jewish Community Center of Youngstown. About 95 people went to honor the victims and survivors of the Holocaust, along with those who liberated them from the concentration camps decades ago.
The theme for this year's Holocaust Remembrance program was "Anti-Semitism in All Its Forms."
Second and third generations of survivors Robert and Michael Rawl; Milana Dimenstein, Sam Kooperman, Howard Honigman, Daniel Shapira and Gary Weiss, lit the menorah to start the ceremony.
Some people deny the Holocaust ever happened, Miller said.
"That's why we are here, to celebrate and honor our parents, our loved ones – I hate to say so it won't happen again, because it's happening now," she said. "But we want to see what we can do to break the ignorance. The reason my father spoke up years ago is because of the people who said it never happened."
The keynote speaker was Jonathon Friedman, the son of Saul Friedman, an internationally recognized Holocaust expert who established the Judaic Studies program at Youngstown State University in 2000. Saul Friedman taught history at YSU for about 20 years and died in 2013.
Jonathon Friedman said the Holocaust should serve as a reminder for humanity. Some war criminals may never be prosecuted for their roles in recent genocides, he said, and some countries are not recognizing or intervening in genocides.
"There is still a widespread refusal to acknowledge genocide," he said.
Only eight states are required to teach students about the Holocaust, he added.
Jesse McClain, education specialist, encouraged people to check out the Jewish Community Center of Youngstown's library, which is now a Holocaust resource center, with more than 500 books and several videos on the topic.
Throughout the program, people read hymns, prayers, poems and short essays about the Holocaust.
Some 6 million Jews were killed in the Holocaust, which was the Nazi-sponsored persecution and annihilation of that group of people and others, including gypsies, Poles and people with mental or physical disabilities.
More like this from vindy.com