East High makes Destination Imagination Global Finals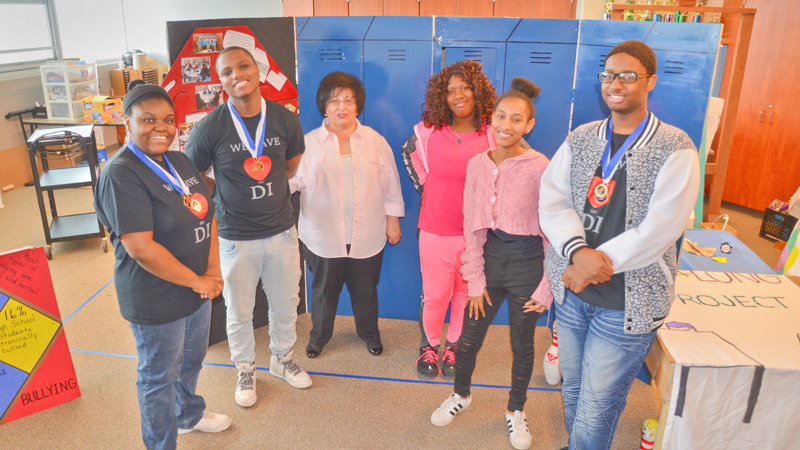 ---
YOUNGSTOWN
Five East High School students are among more than 1,400 teams in the world that have qualified for Destination Imagination's May 21 Global Finals in Knoxville, Tenn.
Global Finals is for Destination Imagination teams that advance past regional and affiliate (state/country) tournaments.
DI is a hands-on program "that fosters students' creativity, courage and curiosity through open-ended academic challenges in the fields of STEM (science, technology, engineering and mathematics), fine arts and service learning," according to destinationimagination.org.
Students showcase their solutions at a tournament, competing for a number of honors.
Jeanne Constantino, adviser of the DI group at East, said the team was given seven challenges to choose from, but the decision to create a message about anti-bullying was easy.
"We know bullying is a big problem in our schools," she said. "The students had all been bullied and decided to go that way and do a project dedicated to anti-bullying."
During the skit, 10th-grader Kaysonn Madison gets bullied for being a new student, for his clothing choice and a lack of money to give to a bully.
Kaysonn connects with his character.
"Sometimes people would say some not-nice stuff to me because I don't have the nicest clothes or I don't come from a good part of this urban area," he said.
As he is portraying a character being bullied, Kaysonn breaks out into a song he wrote about being bullied.
"When I was young, I didn't understand how to handle [being bullied]," Kaysonn said. "I'm a sensitive person, and I would just let it replay in my mind."
After ninth-grader Talasia Vazquez's character notices Kaysonn being bullied, she stands up for him, sending a message to speak out.
"The message is to stop bullying, reach out and show others it's not cool to judge people," she explained.
Kaysonn said he hopes someone learns from the lesson and makes it personally valuable.
"We want to encourage students to go tell someone," Constantino said.
In addition, 11th-grader Brianna James said it's important for students to know to not judge people without getting to know them – "Like judging a book by its cover," she said.
To get this message out at Global Finals, the team needs to raise about $12,000 for the trip to Knoxville.
Marquan Stevenson, also an 11th-grader, said the team is fundraising by selling candy bars, creating GoFundMe pages, selling Handels gift cards and more.
Those who wish to donate can do so by contacting East High, 474 Bennington Ave., at 330-740-4005.
The fifth team member is 10th-grader Santajah Douglass.
More like this from vindy.com