North Lima nonprofit wants every girl to have her dream prom night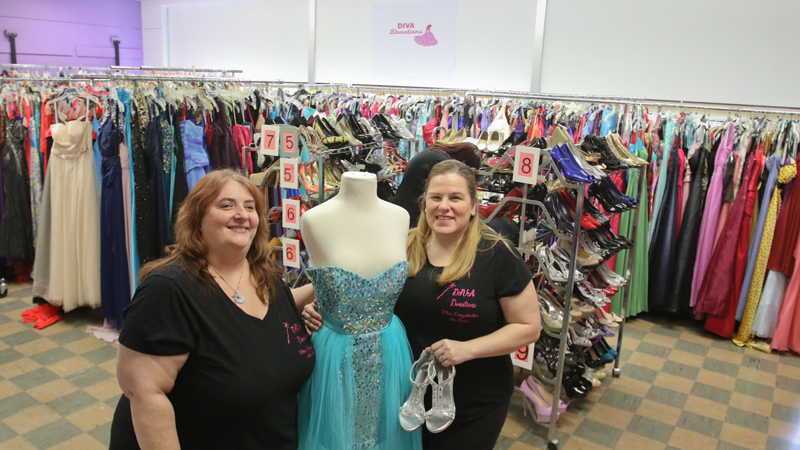 ---
NORTH LIMA
A North Lima nonprofit wants every girl to have the chance to experience her dream prom night.
Diva Donations provides dresses, shoes and accessories for homecoming, prom and formal cultural events, but in return, the girl must spend two hours doing community service.
Kristin Bodendorfer, founder of Diva Donations, calls it the Kind Deed Currency program.
"If a girl's parents can't afford a dress, they can help themselves and their community. We're empowering girls. It's a hand-up, not a hand-out," she said.
This is the sixth year for the nonprofit. The idea started when Bodendorfer started giving away her daughter's prom dresses and collecting dresses for girls who couldn't afford one. Using Facebook, she received almost 200 dresses after one post.
"I'm a big believer in faith, and it was like a voice told me I need to do something with that," she said.
The girls can volunteer to help a group, such as Angels for Animals, or spend a couple hours helping Diva Donations.
Thanks to local and regional donations, the nonprofit has collected 1,500 dresses for girls to choose from. Some 350 to 400 girls borrow a dress from the nonprofit every dance season.
Volunteers dubbed the "fairy godmothers" are style consultants for girls who come to get a dress. Allison Saxon said they can guide girls to find their style, whether they want to look like a princess or a movie star.
Girls can make appointments to pick out dresses by emailing divadonations@gmail.com. Diva Donations is at the Old School Marketplace building on South Avenue in North Lima.
A deposit of $35 must be given, but $20 is returned to the girl if she brings back the dress with a letter stating she performed the community service hours.
The group sells donated dresses that aren't meant for homecoming or prom in order to buy extra plus-size dresses, so all girls can have a nice selection to choose from.
Local agencies, such as Mahoning County Special Services and RaeArc, take their clients to Diva Donations to volunteer so they can learn about merchandising, nonprofit work and job training. October Seals brings her clients from the Carousel Center to volunteer and said they look forward to coming to help weekly.
The nonprofit serves 12 counties in Ohio, Pennsylvania and West Virginia. Bodendorfer said Diva Donations would like to find more organizations to work with for its Kind Deed Currency program.
"We want to empower young women to realize they can help themselves and others," Bodendorfer said.
More like this from vindy.com