Behind the cutbacks at GM Lordstown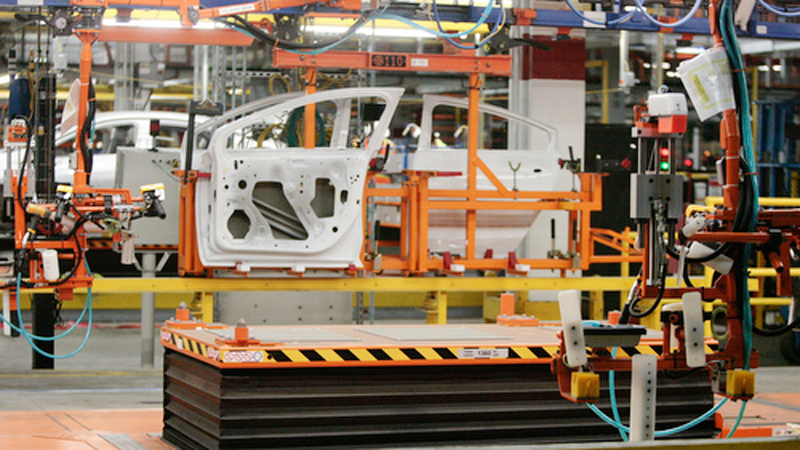 ---
By KALEA HALL
khall@vindy.com
LORDSTOWN
Greg Greenwood never thought he'd see the day when the public would turn away from their compact and mid-size sedans.
Greenwood, owner of Greenwood Chevrolet in Austintown who has been in the business for 36 years, is now watching that happen and seeing the impact of it in the Mahoning Valley.
The Valley found out on Friday that General Motors will cutback its workforce again at the local assembly plant in Lordstown where the Chevrolet Cruze, a compact car, is built. The reason: align Cruze supply with the slowing demand for the car.
Last year, the plant lost its third shift, bringing employment from more than 4,000 down to 3,000.
Now, GM says up to 1,500 could be laid off with the elimination of the second shift in mid-June, which would give GM Lordstown a workforce of 1,500.
"Honestly, it is difficult to see people who have done everything right when it comes to building a quality product impacted this way just because of what is going on in the world," Greenwood said. "It's the right car, right product at the wrong time."
RIGHT PRODUCT
The Cruze launched in 2010 and the Lordstown plant quickly went from one shift to three to produce what would become an award-winning car for Chevrolet.
Cruze sales increased every year from 2011 to 2014, when there were 273,060 sold. But in 2015 that changed. Cruze sales dropped 17 percent from 2014 to 2015. And in 2016, they dropped again. And in 2017 they dropped again to 151,026. With the Mexico-built Cruze hatchback sales included, sales were 184,751 in 2017.
Last year, the Cruze was judged one of the safest vehicles on the road, and rated fifth among all small cars in performance, execution and layout in new honors from the National Highway Traffic Safety Administration and J.D. Power.
The Cruze also received Consumer Reports' level of "Top Pick" earlier this year. The Cruze's 153-horsepower, turbocharged, four-cylinder engine; its roominess and gas mileage of 30 mpg city and 47 mpg highway were all highlighted in the magazine's "Top Picks" report. The Cruze was the first domestic compact car in more than a decade to receive the "Top Pick" title. From 2013 through 2016, the Subaru Impreza took the title.
The Cruze still remains a top seller for Greenwood, but he noted locally there's a lot of loyalty for the locally produced car.
"It's an amazing quality car," Greenwood said.
THE TREND
Car sales are on the decline right now because of the popularity of different size crossovers/sport utility vehicles and trucks.
"It's a lot of the same story we have been seeing in the last three to four years," said Tim Fleming, analyst for Kelley Blue Book. "Three to four years ago was when this trend really accelerated. To be honest, we haven't seen things slow down."
In 2012, non-luxury cars had 40.9 percent of the market share and non-luxury crossovers/SUVs had 25.6 percent.
In comparison, in 2017, non-luxury cars had 29.2 percent of the market share and non-luxury crossovers/SUVs had 35.1 percent, according to Kelley Blue Book data.
The switch, analysts say, is because of lower gas prices, better fuel economy in the crossovers/SUVs and prices.
"The pricing of these vehicles have really become so close," said Jeremy Acevedo, manager of industry analysis for Edmunds. "Consistently cheap fuel has really helped the trend along, and the quantum leap that trucks have made [with fuel efficiency]."
Outside crossover competition, the Cruze also has stiff competition within its own compact car segment with the Honda Civic and Toyota Corolla, both of which have decades of loyal customers.
In 2017, the Honda Civic had 377,286 sales, up from 366,927 in 2016.
"People know Civic and Corolla," Fleming said. "They trust those brands."
The trend away from cars has led some automakers to make other changes.
In June 2017, Ford said it would shift its production of its compact car, the Focus, to China in 2019.
Fiat Chrysler Automobiles stopped building the Dodge Dart in October 2016 and the Chrysler 200 in December 2016.
And recently there have been reports that Ford will stop production of the full-size Taurus and Fiesta and that GM is considering ending production of the Chevrolet Sonic and Impala.
But last week, GM made it clear that cars are still important to the automaker when it unveiled the 2019 Cruze, Impala and Spark. The cars will hit dealer lots later this year.
Analysts say there will always have to be some entry point into a brand with a smaller, affordable vehicle.
"Whether that's a small car or a small crossover — that remains to be seen," Fleming said.
THE IMPACT
Not only will GM Lordstown workers be affected by the shift elimination, but workers at local supplier plants will too.
Local plants that support GM Lordstown are: Jamestown Industries in Austintown where the Cruze's rear bumpers are made; Magna-Lordstown Seating Systems in Lordstown where its seats are made; and Source Providers in Austintown, which does warehousing and logistics for the plant.
When the third shift ended last year, all of those plants also had to cut jobs.
Jose Arroyo, business representative for United Steelworkers, represents the workers at Source Providers. After hearing the news of the shift elimination on Friday, Arroyo was waiting to find out how workers in USW Local 621 at Source Providers will be affected. When the third shift was cut at GM Lordstown, Source Providers went from about 480 workers to 325 today.
"We are just really hoping that this automotive market rebounds," Arroyo said. "We really like the possibility of getting an SUV or crossover to bring this work back. This work is cyclical. We are just hoping for the right market."
GM also told Lordstown workers Friday that there will be a special attrition program offered, which could mitigate the layoff number.
When the jobs are cut, there are local resources available to those in need of new employment.
Last year, the Youngstown/Warren Regional Chamber provided a list of companies in the area that were hiring to GM and United Auto Workers.
"We would certainly be pleased to offer that service [again]," said Sarah Boyarko, the chamber's senior vice president of economic development. "I think there are employment opportunities for these folks when they go through that separation, and oftentimes, it's a matter of knowing where to go."
Boyarko does believe there are enough jobs available locally for those who will be laid off.
The Workforce Development Board of Trumbull County also will be on hand to help furloughed workers find employment.
"It's unfortunate, but it's nothing we haven't been through before," said Bill Turner, director of the Workforce Development Board in Trumbull County. "We will do the best we can to help them through this layoff time."
More like this from vindy.com