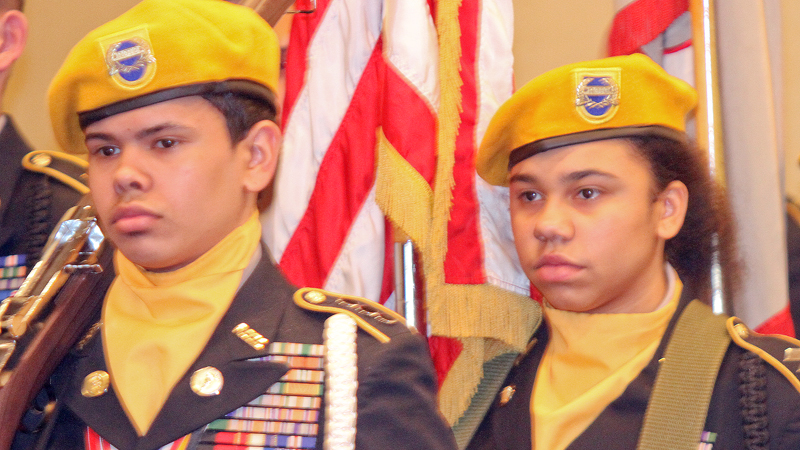 ---
BOARDMAN
Standing in a garden in front of Boardman Township Park are 2,288 pinwheels representing 2,288 cases of child abuse and neglect in Mahoning County.
To bring awareness to National Child Abuse Awareness month, Andrea Mistovich, Child Advocacy Center coordinator, welcomed more than 150 attendees to the 13th annual Pinwheels for Prevention event Friday afternoon.
"Here, we do things to raise awareness," Mistovich said. "We talk about what people can do to prevent child abuse."
And to honor those invested in raising awareness, a Community Spotlight Award was given to students and their leader who planted those 2,288 pinwheels for known child abuse cases.
Jennifer Kollar, Mahoning County Children Services public information officer, presented the award to Retired Army Master Sgt. Douglas Moon, East JROTC instructor, for "pinwheels spinning and gleaming into the wind."
"East [High School] has been a tremendous community partner with us for seven years," Kollar said.
Moon said the award wasn't for him, but for East's JROTC program.
"Without cadets like these guys there's no way our program would be as good as what it is," he said.
East principal Sonya Gordon smiled ear-to-ear with pride for her students and Moon.
"[Moon] is an amazing role model for our students," she said. "We are proud of the work that he and Maj. Dugan do for our school and our community."
Brian Dugan is a retired Army officer and East's JROTC senior instructor.
David Kohut, founder of the "Talk is Cheap" lecture series, said the pinwheel is a national symbol dedicated to "remind us to focus on prevention."
"These pinwheels are a reminder that every child matters," he said.
Bull, who is president of Bikers Against Child Abuse Erie Shores Ohio Chapter, added that pinwheels represent adults empowering children to not be afraid of the world we live in.
"It only takes one person to make a difference," he said.
More like this from vindy.com