GM cuts second shift at Lordstown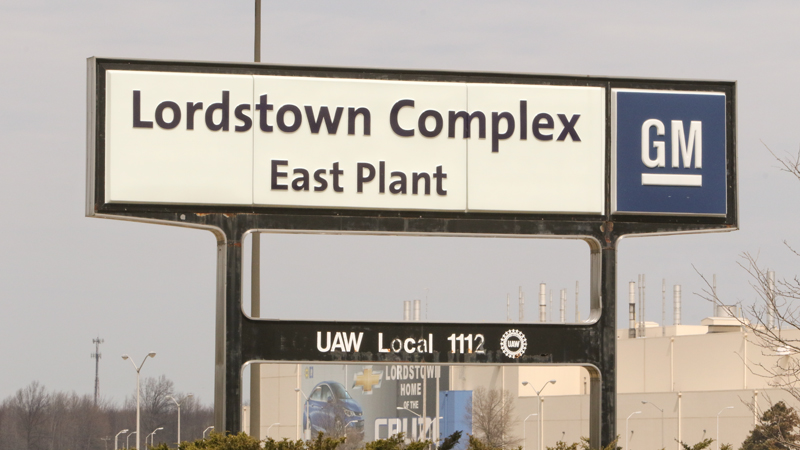 ---
By KALEA HALL
khall@vindy.com
LORDSTOWN
GM Lordstown Eliminates Second Shift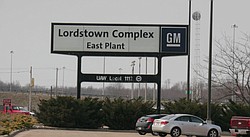 Video
Workers at the GM Lordstown complex were told the second shift is being eliminated. Video and photos by William D. Lewis - The Vindicator
The future of the General Motors Lords-town Assembly Complex remains to be seen.
What's known now is the second shift will be eliminated June 15 – slicing the number of employed from 3,000 to 1,500.
GM employees were given the bad news Friday afternoon, but GM also said it will offer a special attrition program to employees that could mitigate the actual layoff number.
The move is a way to align the supply of the plant's compact car product, the Chevrolet Cruze, with slow demand.
"As the market continued to undergo historic changes, it required us to reduce production rates and take numerous down weeks to match production with lower customer demand for compact cars," GM said in a statement. "The car market remains important to GM and Chevrolet since it represents 36 percent of industry retail sales. The small car segment also brings new and conquest customers to Chevrolet."
WHAT'S NEXT?
Chevrolet last week unveiled the 2019 Cruze, which will hit dealer lots later this year. It will have an updated front fascia, new interior color options, a new infotainment system and expanded availability of remote start and automatic climate control, which are now standard on LT and Premier models.
The Cruze sedan will be built at GM Lordstown as it has been since 2010. The Cruze hatchback is built in Ramos Arizpe, Mexico.
For competitive reasons, GM does not discuss future product allocation.
Union officials do not see an announcement of a future product in the foreseeable future since typically product announcements take place during United Auto Workers/GM negotiation, which take place next year.
"I really feel bad for the team members," said Glenn Johnson, president of UAW Local 1112. "They have put their heart and soul into putting us into the best position for a new product."
Johnson believes those members "eventually will be awarded with a new product."
The plant is currently at "built-in-quality" level three and working toward level four. Built-in-quality is a process of securing quality at each phase of production.
"We know where we need to be and the team is up to the challenge," Johnson said. "I know it's a painful kick in the gut today."
Earlier this year, Local 1112, which previously only represented the assembly plant workers, merged with UAW Local 1714, which represented fabrication plant workers. The merger was to make the plant more cost effective and to secure the future of GM Lordstown.
"Our focus is now to continue to build a quality car for our customers," said Robert Morales, former president of Local 1714. "We can't control the market but we can control what we do build."
The Cruze hit its 11th month of sales declines in March.
Last January, the plant lost its third shift and had more than 10 down production weeks because of the slowing demand for compact cars.
Low gas prices and better fuel technology are some of the reasons why consumers have turned to sport utility vehicles, crossovers and trucks.
"Obviously it's disappointing that small car sales have continued to slide," Johnson said.
SIGNIFICANT IMPACT
Lordstown Mayor Arno Hill said the loss of the second shift will be "a heck of a hit," but he still believes the plant is "in GM's long-term plans."
"That will significantly affect the village," he said of losing income tax from many of the workers losing their jobs.
"It's going to dig into our reserves, but we've prepared for it. We've been around a long enough time. We've put enough money away for debt payments for the sewer system. We've tried to be good stewards of the residents' tax dollars, and we believe we've done that."
Hill said the village is still dealing with issues from losing the third shift and the overtime that workers used to received. With the loss of both of those, the village has lost about $1 million.
"We have a great product here, but the market has shifted, but hopefully it will shift back," Hill said.
GM said its payroll taxes at the Lordstown plant total more than $35 million and its wages are more than $181 million.
"Obviously GM Lordstown has been one of largest taxpayers in Trumbull County and the Mahoning Valley, so this loss is significant," Trumbull County Commissioner Mauro Cantalamessa said.
Commissioner Frank Fuda said gas prices are hurting the Lordstown plant, but some area employers doing especially well right now, such as Vallourec Star, where Fuda's daughter works as head of the scrap department.
"She's been working 10 or 12-hour days. Sometimes they call her in at night," he said.
One of the direct effects on county government from the loss of the GM jobs will be a decrease in purchases that those people will make and the resulting drop in sales taxes coming to the county.
Thomas Gaffney, Warren income tax administrator, said the loss of the second shift will reduce income taxes paid by Warren residents who work there.
The city currently receives about $150,000 per year from GM workers. He said he doesn't know how many of those people will be losing their jobs.
'DISCOURAGING NEWS'
U.S. Sen. Rob Portman, a Cincinnati-area Republican, wants GM to reinvest in Lordstown. "I've visited the Lordstown plant and seen firsthand the world-class cars these workers produce. My office will do everything we can to help these workers with the appropriate resources during this transition," he said.
U.S. Rep. Tim Ryan of Howland, D-13th, blamed President Donald Trump for the shift announcement noting the decision made by the U.S. Environmental Protection Agency Administration to revise current standards for greenhouse gas-emissions for cars and light trucks.
Current regulations require the fleet of new vehicles to get 36 miles per gallon in real-world driving by 2025, but that will be revised.
"While low gas prices encourage the decline of compact car like the Chevy Cruze, President Trump's intention to weaken fuel economy standards is putting his thumb on the scale in favor of the larger cars and SUVs made elsewhere," Ryan said. "He claimed he was against the government picking winners and losers, and yet he goes against the very region and state that helped put him in office."
U.S. Sen. Sherrod Brown, a Cleveland Democrat, plans to send a letter to GM about the announcement.
"GM cannot pocket billions of dollars in tax cuts and turn around and fire Ohio workers whose livelihoods depend on these jobs," Brown said. "I expect GM to tell Ohioans immediately how they plan to use their tax windfall to keep Ohioans in their jobs."
State Rep. Michael O'Brien of Warren, D-64th, said elimination of the second shift shows how "important it is to continue the diversification of business in our area to not rely on automobiles, automotive parts and steel."
State Rep. John Boccieri of Poland, D-59th, feared the news was coming before the announcement. "We may be heading for tougher times. It's a blow for the Valley and the workforce," he said.
State Sen. Joe Schiavoni of Boardman, D-33rd, said he and his father, both attorneys, have represented GM employees in workers compensation claims over the years and they're "good, hardworking people."
"I'm upset for those workers and their families," Schiavoni said. "It's frustrating to see more struggles for the Mahoning Valley with job losses."
Contributors: David Skolnick and Ed Runyan, staff writers
More like this from vindy.com