Girard gets jump on Liberty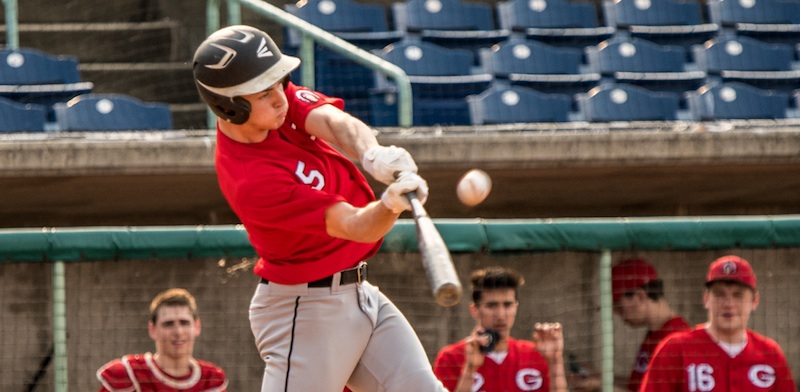 ---
Girard vs. Liberty Baseball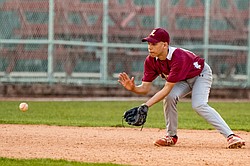 Gallery
The high school baseball teams from Girard and Liberty faced off on Friday, April 13, 2018. Photos by Dianna J. Oatridge.
By Dan Hiner
dhiner@vindy.com
niles
Girard outfielder Nick Malito hasn't hit an inside-the-park home run since he was in Little League.
That drought came to an end in the Indians' 10-1 win over Liberty at Eastwood Field on Friday.
Malito took a fastball to deep center field in the top of the sixth inning to extend Girard's lead to 9-1 and put the game out of reach.
"It's been a couple years — Little League," Malito said. "[I was] probably 11 or 12. It's been a while."
Malito finished 3 for 4 with two RBIs and two runs scored.
Girard (5-3, 4-1 All-American Conference Blue Tier) took a 4-0 lead in the first inning after capitalizing on two Liberty errors.
Girard's Aidan Warga and Tyler O'Dell hit back-to-back doubles to start the game.
After Austin Claussell reached on an infield single, David Blackmon drove in O'Dell on misplayed groundball to second base.
Claussell and Blackmon later scored after Clausell tried to steal third and Liberty third baseman James Spisak missed the throw from catcher Ty Leshnack.
"Huge to get four right out of the gate in the first inning," Girard head coach Aaron Alejars said. "We kept putting pressure on them. We didn't score in the second, third or fourth, but we had runners in scoring position.
"We were putting the ball in play and putting the pressure on them."
Nick DeGregory pitched six innings for the Indians. He allowed six hits, walked two and struck out five.
He allowed one run in the second inning and worked himself out of a couple jams.
"You gotta tip your hat to DeGregory," Alejars said. "He's been our number one, bulldog pitcher now as a junior for three years."
Freshman Dwight Parker drove in the Leopard's only run of the game on a one-out RBI double down the left field line to cut the lead to 4-1. But two pitches later DeGregory picked off Parker to end the scoring threat.
Liberty (7-4, 5-1 AAC Blue Tier) stranded three runners in scoring position in the first five innings.
With Girard leading 6-1 heading into the sixth, the Indians scored four runs to break the game open.
Liberty starting pitcher Trevor Strohmeyer allowed four runs in the first inning but settled down afterward.
The Liberty freshman gave up two more runs in the sixth inning on a suicide squeeze by DeGregory and a sacrifice fly by Braydon Freeman.
Parker came in to pitch the sixth inning, but only lasted one-third of an inning. He allowed three runs on three hits.
"It's just one of those things. Everything kind of snowballed there in the first," Liberty head coach Tommy Otto said. "I thought we were able to get out of it.
"I really thought Trevor Strohmeyer kept us in the game. I thought he competed hard today. He kept us around and it just got to the point where I couldn't keep him out there anymore."
In the fifth and sixth innings, Girard totaled six hits and two walks. The Indians had just three hits in the second, third and fourth innings combined.
"Everybody came out and was able to hit the ball," Malito said. "Coach gave us reason for the adjustments [to their] defense. We came out and did what we were supposed to do."
More like this from vindy.com