---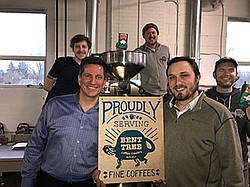 Photo
Neighbors | Submitted .Local scouts have partnered with Bent Tree Coffee Roasters for their annual fundraiser. Pictured in the front row are, .Scout Executive/CEO Patrick Scherer and District Director Wayne Nieman, of the Great Trail Council Boy Scouts of America. In the back row are Bent Tree Coffee Roasters General Manager Mike Nold and co-owners Ryan Brannon and Mike Mistur.
The Great Trail Council, Boy Scouts of America recently announced a partnership with Bent Tree Coffee Roasters for their 2018 annual product sale.
During this annual fall fundraiser, Scouts will now have the opportunity to sell local coffee, in addition to the traditional popcorn products. The campaign will now feature a variety whole bean coffee product, roasted and distributed locally.
Bent Tree Coffee Roasters is a small batch, artisan coffee roaster located in historic downtown Kent. Founded in the Summer of 2011 by friends Ryan Brannon and Mike Mistur, their concept is simple: seek out and start with only high quality Arabican green coffee beans and carefully roast them to perfection.
Bent Tree Coffee only sources coffee from those dedicated to taking an active role in all aspects of high quality coffee.
"We couldn't be more excited to partner with the Boy Scouts of America. We respect and appreciate their long history of fostering youth development and look forward to working with the Scouts and Scout Leaders to make their fall fundraiser successful," said Brannon.
In 2017, nearly 5,000 Scouts in Summit, Medina, Portage, Trumbull and Mahoning Counties sold $1.9 million in popcorn. Proceeds from the campaign went directly to support local Scouts, camp operations at three Council camps and a number of other operations across the Council. With the addition of the Family Scouting program in 2018, in which girls will be welcomed into the Cub Scouts, the Council looks to further expand its outreach into the community.
"More than ever, our annual product sale, now including coffee, will be vital to our Council's success," said Jody Gildersleeve, Director of Development for the Great Trail Council. "We are thrilled to work with local, enthusiastic partners like Mike and Ryan at Bent Tree Coffee."
The annual fundraiser will kick off in August 2018, culminating in November.
For more information about Scouting in your area, visit www.gtcbsa.org.
To learn more about Bent Tree Coffee Roasters, go to www.benttreecoffee.com.