Summary of recent criminal activity in Poland and Boardman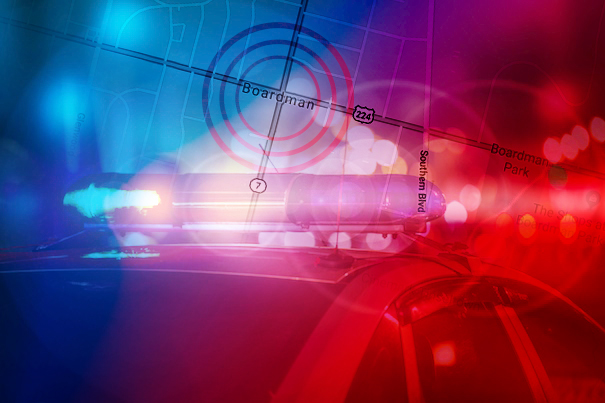 ---
A summary of recent criminal activity in Poland and Boardman townships:
POLAND
April 5
Incident: A South Main Street woman told police she detected a strong natural-gas smell in her home before firefighters determined something had been poured in the nearby sewer system.
Theft: An outdoor rocking swing, a patio table and a wheelbarrow were removed from a residence in the 2100 block of Manor Avenue.
Identity fraud: A North Lima Road man learned that his personal and credit-card information had been compromised.
April 6
Burglary/criminal damaging: Took place in the 7000 block of Clingan Road via the front door, where two window screens and a door sustained damage. Stolen was a diamond ring.
April 8
Burglary/criminal damaging: A break-in via the front door was reported in the 5800 block of Poland-Struthers Road. Two household items were damaged, and a credit card was missing.
BOARDMAN
April 7
Drug paraphernalia: A traffic stop in the 40 block of Jennette Drive resulted in Daniel J. Tucci, 40, being charged with possessing drug paraphernalia. Tucci, who listed Boardman addresses on Jennette Drive and Yarmouth Lane, had a suspected crack-cocaine pipe and a rock-like substance in a candy wrapper, police alleged.
Theft: Lequisha S. Carter, 25, of Volney Road, Youngstown, was charged with stealing 19 food items valued at $62 from Walmart, 1300 Doral Drive.
Trespassing: Police responded to information that a suspicious man near Tippecanoe Road was pulling on vehicles' door handles before they charged Austin J. Trgovcich, 24, of Eagle Trace Drive, Boardman, with criminal trespassing and attempted theft. The investigation revealed 19 cars had been affected on and near Tippecanoe, a report showed.
Assault: A Youngstown man told police several people attacked him in the 100 block of Lemans Drive, though he provided vague details.
Menacing: An Afton Avenue man alleged his former girlfriend's boyfriend threatened over the phone to beat him up.
Drug paraphernalia: A vehicle check in the 900 block of East Midlothian Boulevard led to the arrests of Frank B. Clark Jr., 36, of Elm Street, Struthers, and Melody S. Ford, 39, of Burkey Road, Austintown, on charges of possessing drug paraphernalia after officers alleged having found needles and a suspected crack-cocaine pipe. Both also were wanted on warrants.
Theft: Police charged Katie A. Obstler, 43, with theft after alleging Obstler, of Market Street, Boardman, had stolen 12 hygiene products valued at $37 from Marc's, 7121 Tiffany Blvd.
Theft: Raymond M.L. Bowman, 20, of South Avenue, Boardman, was charged with removing tags from two packages of undershirts while in Walmart, then self-scanning the merchandise at the lower price.
April 8
Theft: Steven A. Doan, 28, of Northwest Boulevard, Warren, was charged in the theft of $610 worth of pants and jackets from Kohl's, 383 Boardman-Poland Road.
Harassment: A woman reported having received a series of such calls while at a Market Street motel.
Possible child endangerment: A Sigle Lane man alleged his 9-year-old son's stepfather had assaulted the boy by pushing him against a wall.
Theft: Heather M. Anderson of Garden Valley Court, Boardman, faced a charge after police alleged Anderson, 37, had stolen about $75 worth of perfume from Kohl's.
April 9
Aggravated menacing: A clerk and a manager with a Market Street gas station told police a man had made a series of threats against them that included promises of returning to do bodily harm after apparently having been angered about beverage prices at the business.
Domestic violence: Rayshawn L. Scott, 23, of West Evergreen Avenue, Youngstown, faced charges of domestic violence, resisting arrest and obstructing official business after his child's mother, of Boardman, alleged that during an argument, Scott had pushed her to the ground three or four times. He also fled on foot from authorities before surrendering near Mathews Road, police said.
Theft: Norman E. Clayton Jr., 31, of Tampa Avenue, Youngstown, was charged, accused of stealing about $125 worth of groceries from Walmart.
Domestic violence: A 15-year-old township girl was charged with the crime after her mother alleged that during an argument, the teen twice punched her head, then pulled the accuser's hair and tossed an ashtray at her, though the mother was not struck.
Theft: A man reported a benefits card had been removed from his South Avenue mobile home.
Theft: A Sunset Boulevard woman discovered a mattress and box spring as well as $240 missing from her home.
Fraud: Authorities charged Thomas J. Cush Jr., 26, of West Mifflin, Pa., with two felony counts of identity fraud and one each of telecommunications fraud, forgery and theft by deception after having received information that two men were in Verizon Wireless, 650 Boardman-Poland Road, trying to buy a phone with what appeared to be fraudulent identification cards. Cush provided a phony name and had a fraudulent ID, along with a fake New York driver's license; in his wallet was a receipt with an electronic signature of another person's name, a report showed.
April 10
Arrest: A traffic stop in the 8200 block of Market Street resulted in the arrest of Kenneth Double, 65, on a charge of operating a vehicle impaired. Double, of Market Street, Boardman, registered a 0.184 blood-alcohol content, which is more than twice Ohio's 0.08 legal intoxication limit, a report stated.
Criminal damaging: A Niles woman noticed damage to her vehicle's passenger-side fender while she was in the 7300 block of South Avenue.
Fraud: A Mayfield Drive man learned that the name of another person had been added to the accuser's account without his consent, though the man apparently lost no money.
Theft: A woman in her 30s reportedly took two $350 wireless earphones from Best Buy, 561 Boardman-Poland Road.
Theft: A worker with a McClurg Road business discovered his 10-speed bicycle had been stolen from his place of employment.
Fraud: A Forest Hill Drive woman reported a caller claimed she owes about $3,998 in income taxes that she supposedly had misappropriated before a second caller threatened that a warrant would be issued for her arrest unless she followed instructions, which led the accuser to be tricked into buying gift cards before she realized it was a scam. The victim lost about $1,500.
Theft: Stephanie A. Vandyke, 24, of Green Meadow Place, Poland, was charged in the theft of $227 worth of food and clothing from Walmart.
Theft: Police at Boardman Area Court on Market Street took custody of Kelia S. Faulk of East Midlothian Boulevard, Struthers, who faced a charge. Faulk, 22, was accused of stealing $17 worth of food from Walmart.
Recovered property: A 2008 Ford Escape was recovered in the 7300 block of Market Street after a Youngstown man said it had been used without authorization.
Theft: A woman in her 40s wearing a Pittsburgh Steelers shirt reportedly fled from Ulta Beauty, 403 Boardman-Poland Road, after having stolen eye-shadow palettes and cologne.
Unauthorized use of a vehicle: A Youngstown woman said her 2006 Chevrolet Impala had been taken without permission from a home in the 4600 block of New England Boulevard.
April 11
Bad checks: Authorities responded to a report of a woman trying to cash fraudulent checks at Huntington Bank, 476 Boardman-Canfield Road, where they charged Shavontae Q. May, 26, with three felony counts of forgery and one count each of passing bad checks and attempting to pass bad checks. The Cleveland woman had tried to cash such checks, which contained another person's name, at three Huntington Bank branches; also, she successfully did so with two checks that totaled $1,948, a report stated.
Burglary: Occurred at a residence in the 5200 block of West Boulevard via a rear door. A 58-inch flat-screen TV and $20 were missing.
Littering: A supervisor with the township road department reported that while on Woodfield Court, someone had dumped about 800 pounds of construction debris on the road.
Theft: A woman reportedly stole $30 worth of property that included a package of diapers from Walmart.
Counterfeit: A fake $20 was passed at Walmart.
Theft: Two men were reportedly caught on surveillance footage stealing a 43-inch smart TV from Walmart.
Theft: A Boardman man noticed a $200 vacuum cleaner missing from his vehicle as he left a Doral Drive big-box store.
More like this from vindy.com