Jewish Community Relations Council remembers Holocaust, plans tribute to international scholar
Staff report
YOUNGSTOWN
The Jewish Community Relations Council presented its annual Holocaust Remembrance program Thursday and is planning its annual Shoah Memorial Ceremony for Sunday.
This year's local theme, "Anti-Semitism in All its Forms," explores the increased instances of anti-Semitism worldwide and how Holocaust denial contributes to this increase. This year's theme grapples with the role anti-Semitism played in the Holocaust.
The 25th annual Community Holocaust Commemoration in the Mahoning County Courthouse featured a presentation by Jesse McClain, the Jewish Federation's Holocaust educational specialist, on the transformation of the Jewish Community Center of Youngstown's library into a new Holocaust resource center.
Shoah Memorial Ceremony at the Jewish Community Center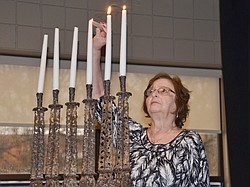 Gallery
A Shoah Memorial Ceremony was held at the Jewish Community Center on Sunday, April 15, 2018. The theme was "Anti-Semitism in all its forms." Photo by Scott Williams - The Vindicator
After extensive renovations, the resource center will serve as an exhibit space as well as a multi-media resource for Holocaust and other Judaic holdings.
The presentation of a proclamation by Youngstown Mayor Jamael Tito Brown, as well as a memorial candle- lighting ceremony to honor the 6 million who died, were part of the event.
On Sunday, the Shoah Memorial Ceremony will be at 4 p.m. at the Jewish Community Center, 505 Gypsy Lane. It will pay tribute to Dr. Saul Friedman, who died in 2013, with a keynote presentation by his son, Dr. Jonathan Friedman. Dr. Saul Friedman served as a professor of history at Youngstown State University from 1969 until his retirement in 2006. He was an internationally recognized Holocaust expert who published numerous award-winning books and documentary films.
The program also will include the unveiling of the Saul Friedman Collection, a compilation of Dr. Friedman's papers, notes, research materials; the official opening of the JCC Holocaust Resource Center and Library; musical presentations; and a candle lighting.
More like this from vindy.com