History presentation on Holocaust at library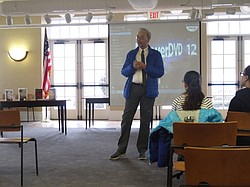 Photo
Neighbors | Zack Shively.Jesse McClain, a Holocaust Educational Specialist with the Youngstown Area Jewish Federation, spoke at the Poland library on March 7 about the Holocaust. He talked about different myths and facts about the historic event.

Photo
Neighbors | Zack Shively.Jesse McClain spoke at the Poland library and brought a display with him. The display showed the stories of two Holocaust survivors, Henry Kinast and Bill Vegh.
By ZACK SHIVELY
The Poland library welcomed a Holocaust Educational Specialist to their library for a presentation on March 7.
Jesse McClain of the Youngstown Area Jewish Federation spoke about his extensive knowledge of the Holocaust. In addition to speaking, he brought an exhibit detailing the experiences of Holocaust survivors Henry Kinast and Bill Vegh.
"To me, it's not a Jewish issue, it's a human issue," McClain said during his presentation. He explained that there are still genocides and holocausts happening in parts of the world today.
His presentation went over some of the untrue beliefs around the Holocaust, such as Hitler being born Jewish, and brought up other facts, like how the genocide of the Romani people killed nearly half of their population in Europe.
He explained that those involved in the Holocaust had four different roles. Those that followed the Axis Powers or helped the Axis were perpetrators, many types of people were the victims, the Allies were the rescuers and then countries were bystanders, including the United States for many years. He explained that the bystanders played a role in helping the Axis by standing with the victims.
He then showed a short film, "Pigeon," that explored the four roles people play in a small setting. The story, based on true events, followed a Jewish man, the victim, whose fake identification papers had been stolen from him. He got on a train and Nazi soldiers, the perpetrators, stopped the train and asked for identification papers. A woman, realizing the man's problem, stands up and acts as a rescuer by claiming to be his wife. Those on the train that did nothing to help the man were bystanders.
He also spoke briefly about the lives of survivors Vegh and Kinast during his talk. He described his trips to Israel and Poland and the environment for Jewish people in both places.
His general interest in the Holocaust has led to a life-time study of the history, politics and stories surrounding the Holocaust that has lasted for over 30 years. He explained that the historical event is relevant now, with genocides in places like Darfur.
More like this from vindy.com