Grandparents visit Hilltop first-graders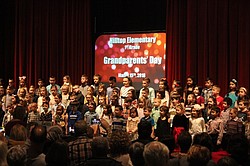 Photo
Neighbors | Abby Slanker.Hilltop Elementary School first-graders, under the direction of music teacher Stephanie Summers, performed the musical portion of the school's annual Grandparents Day on March 15.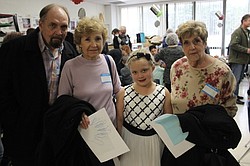 Photo
Neighbors | Abby Slanker.Hilltop Elementary School first-grader Taylor Skripac invited her grandparents, from left, Jim and Christine Dobos and Iris Pike to the school's annual Grandparents Day event.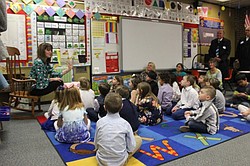 Photo
Neighbors | Abby Slanker.Hilltop Elementary School first-grade teacher Carrie Meranto (left) read "How to Babysit a Grandma" to her class and their grandparents on March 15.
By ABBY SLANKER
First-grade students at Hilltop Elementary School celebrated the school's annual Grandparents Day by inviting their grandparents to join them for a special musical performance and a visit to their classrooms on March 15.
As the students entered the multi-purpose room to perform the musical program, they were greeted by their proud, excited and waving grandparents armed with cameras, phones and video cameras to capture memories of this special day.
The students were under the direction of Stephanie Summers, Hilltop Elementary School music teacher.
"Good morning and welcome to our first-grade Grandparents Day. This program is the result of a lot hard work by a lot of people, including our first grade students, staff and teachers Mrs. Meranto, Mrs. Creed, Mrs. Dede and Mrs. Kozlowski. And of course Ms. Summers who put in a lot of hard work with many, many practices. The children are proud to present this program to you. Thank you and enjoy," said Joe Maroni, Hilltop Elementary School principal, as he welcomed the grandparents.
Maroni then turned the program over to Summers.
"Good morning and welcome to our first-grade Grandparents Day program. We would like to start by asking you to stand and join us in 'The Pledge of Allegiance' and then we will sing the Hilltop Elementary School song," Summers said.
After that song, Summers introduced the theme of the program.
"The theme of our program today is 'Things I Like to do With My Grandparents.' For example, during the summer months, we visit the beach, as represented by our next song "Down By The Bay,"' Summers said.
In between songs, videos were shown, by class, of the students revealing their favorite thing to do with their grandparents. Some popular activities included sleep-overs, baking, playing games and fishing.
Next in the performance was "Six Little Ducks," which Summers said reminds the students of visiting the park with their grandparents and watching the ducks and geese.
Summers then explained the next musical selection.
"As the children said in their videos, one of the best things about hanging our with their grandparents is having sleepovers. Our next selection, "Ten in the Bed," represents that sentiment," Summers said.
Next, the students sang "Old McDonald Had a Farm" to represent visiting the animals at the Canfield Fair with their grandparents.
"Another activity that the students mentioned frequently in their videos was learning how to cook with their grandparents. Now, cooking is fun, but eating what they cook is even better. Our next song, "On Top of Spaghetti," is an oldie but a goodie," Summers said.
To close the musical portion of the day, Summers thanked the grandparents for coming and introduced the final song.
"Before we sing our last song, we would like to thank you for coming and listening to us today. Our last song is about a great American past time. We present 'Take Me Out to the Ballgame,'" Summers said.
When they finished, first-grade teacher Charn Creed took the floor.
"Thank you, Ms. Summers. You have worked long and hard with our students and they sounded great and looked adorable. Thank you for everything. I would also like to thank Mr. Williamson, who is our behind the scenes guy and who is always there for us," Creed said as Summers and Williamson were each presented a gift.
After the program, the students and their grandparents took turns visiting the art room where they completed an art project with art teacher Diane Leonard and the gym with physical education teacher Linda Magyar where they had fun with parachute activities. The students and their grandparents also visited the library with Patti Hockensmith to peruse and shop at the school's annual book fair.
The students also took their grandparents their classroom for a tour and to visit with their teacher. The students made signs welcoming their grandparents and gave them cards they made to commemorate this special occasion.
More like this from vindy.com