Fitch inducts 2017-2018 NHS members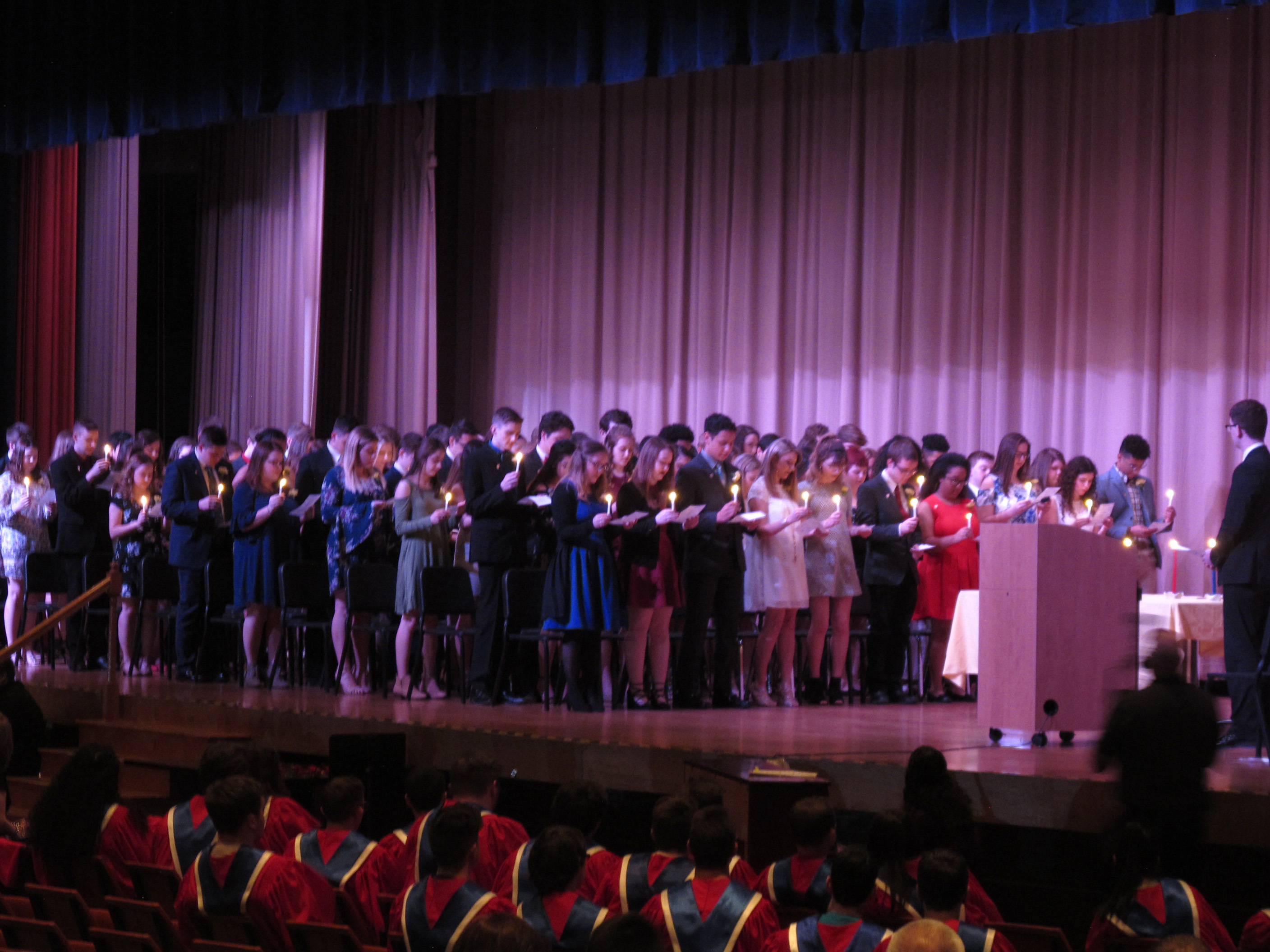 ---
By ZACK SHIVELY
Austintown Fitch High School inducted 99 new members into their National Honor Society with an assembly on March 23.
The assembly focused on celebrating the accomplishments of the students inside and outside of the classroom and demonstrating the four pillars of the NHS: character, scholarship, leadership and service.
The program featured performances from the school's concert choir under direction of Bill Klein and the symphonic band under direction of Wesley O'Connor. Guest speaker Jill Martin, social studies teacher at Fitch, spoke about mantras to live by for success and gave an emotional goodbye to her senior students.
Then, they had the procession of new inductees and a candle lighting ceremony. The lighting ceremony included five students lighting candles and speaking about the NHS and the organization's pillars. They also took time to recognize members celebrating the 50th anniversary of their induction ceremony.
After the induction, Joseph Jadue and Moriah Berni inducted a staff member into the NHS as an honorary member. Berni had the privilege of inducting her father, principal Chris Berni, into the organization.
Berni gave remarks after the induction in which he thanked the students for their service to the community as well as their dedication to their schoolwork. Heather Carcelli, language arts teacher and director of the school's NHS program, concluded the assembly, where she said the students are poised to make a change.
Following Carcelli's concluding statements, the symphonic band played the school alma mater and recessional as the families and NHS members exited the auditorium.
The newly inducted members are seniors Jordan Fountain, Julia Getsy, Erin Harper, Vanessa Mauzy and Roland Eugene Wildman III and juniors Kaylee Aliberti, Tianna Amann, Nicolas Andino, Taylor Baer, Emma Baker, Jessica Bellish, Matthew Bodnark, Berah Brown, Rachel Burkell, Tori Cappuzzello, Brooke Carroll, Marcellena Ceja, Brittany Christmas, Angel Ciccarelli, Ethan Cochran, Christian Collins, Sierra Cortez, Alec DeBaldo, Gianna DiRenzo, Angelena Dorbish, Romond DuVal Jr., Zack Eckert, Joshua Emery, Samantha Epperheart, Taylor Fronk, Ashley Fuller, Macey Futkos, Alex Giovannone, Jared Godwin, Nathaniel Goleno, Dylan George, David Gunger, Hannah Harris, Hunter Helminiak, Kayla Herman, Devin Higginbottham, Sabria Hunter, Noah James, Alyssa Jones, Zach Kimble, Cassidy Kimbrough, Blake Kusky, Sidney Laughtner, Tom Leskovac, Abigail Loew, Jessica Magni, Mackenzie Marcello, Robert Marek, Faith Marscio, Makenlie Mattiussi, Kaitlyn McComb, Maegan McLaughlin, Sharismar Mendez-Tirado, Kenny Misik, Ryleigh Morgan, Connor Morton, Stephanie Mulligan, Erin Murphy, Daniel Newman, Edward Odom, Kamryn Pechatsko, Aleah Pflug, Brett Porter, Katherine Rein, Kelly Recktor, Joe Remish, Hallie Renda, Muhammad Talha Riaz, Jake Rouan, Nicolas Rutter, Christa Schall, Kaitlyn Sciortino, Renee Seebacher, Jeremy Selby, Kaylee Senvisky, Trevor Sicilia, Amber Sierra, Chloe Sima, Lainie Simons, Derek Sletvold, Collin Smith, Alexcia Soto, Madison Tibbetts, Miranda Truslow, Zachary Vestal, Nicole Vitullo, Sam Warg, Aaron Weiser, IzaBella Wertz, Elise Yantes, Derek Yost, Makayla Zets and John Zimmerman.
More like this from vindy.com