Fitch christens new field with a victory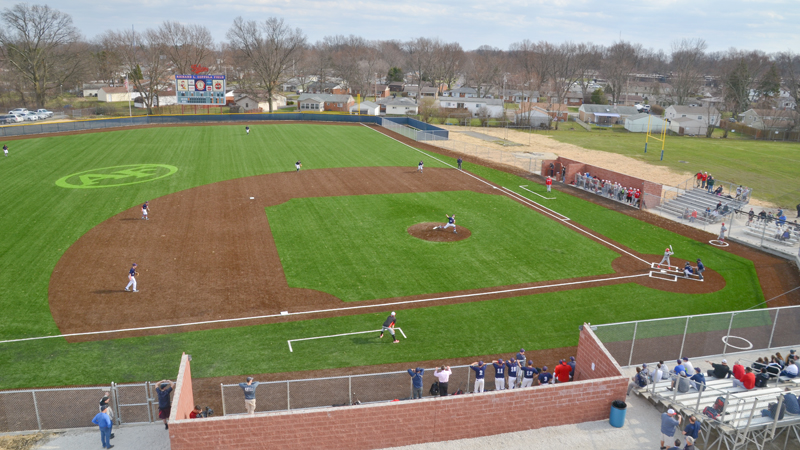 ---
By Dan Hiner
Austintown
Thursday was the grand opening of the renovated Coppola Field on Austintown Fitch's campus.
The opening featured a new turf field and an all-around great performance by Fitch pitcher Nick Belcik.
Belcik picked up the win and hit two home runs in the Falcons' 16-4 win over Columbiana.
The Falcons' pitcher struck out five in five innings. Belcik allowed six hits, one walk and four runs. Offensively, Belcik finished 3 for 4 with six RBIs.
"For the first home game on this field, I feel like I did pretty good," Belcik said. "I feel like we all did pretty good. We all fielded our ground balls, it was a great team effort tonight and I'm glad we got the win."
Austintown Fitch vs. Columbiana Baseball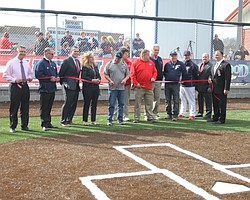 Gallery
The high school baseball teams from Austintown Fitch and Columbiana faced off on Thursday, April 12, 2018. This was the home opener for the Falcons, as well as the first game played at the new Richard L. Coppola Field on the Austintown Schools campus. Photos by William D. Lewis and Scott R. Williams - The Vindicator
Leading 2-0, Belcik hit a two-out, two-run homer to left field in the bottom of the first inning.
Fitch (5-3) added two more runs to take a 6-0 after one.
After an RBI single by Nick Bianco, Belcik hit a grand slam to extend the Falcons' lead to 11-0 in the second.
"Some letter-high fastballs. Today in BP we thought about it a little bit," Belcik said. "The new field, thinking about the depth and they just put up the numbers. It was great to hit two out today, myself."
Bianco went 2 for 3 with four RBIs and a run scored.
Belcik worked himself into some trouble in the top of the third inning.
He hit two batters and Michael Ginocchi singled to left field to load the bases. Columbiana right fielder Zach Fahs drove in a run on a fielder's choice and shortstop Chase Franken added another on a single to right field.
The Clippers (3-5) scored all four of their runs in the third inning.
Columbiana pitchers struggled with their control. The Clippers gave up 14 hits and walked seven in four innings.
Evan Kenneally started the game for the Clippers but only lasted two innings.
Kenneally allowed 11 runs — all earned — eight hits and four walks.
"I mean two big swings by their pitcher just put it away," Columbiana head coach Ryan Wolf said. "Coming in we needed to make sure we kept the ball down, threw strikes and [not] get behind hitters. We struggled.
"The atmosphere was a little bit nervous. It's Fitch, we're Columbiana."
Wolf said he tries to schedule larger programs to challenge his players. He thinks the team will go back and learn from the game.
In addition to the ribbon-cutting ceremony, former Fitch head coaches Rich Coppola and Wally Ford threw out the first pitches.
The field is named for Coppola, who compiled a 493-198 record with the Falcons.
"No matter what happens, this is coach Copppola's program," Fitch head coach Joe Paris said. "He started it in 1958 — this is actually the 50th anniversary for the program. He's a legend in this area.
"And coach [John] Rorick and coach Ford, he's like family to me. I was with him for 18 years. I'm really following some legends in the Austintown community. Unfortunately coach Rorick passed way. But to see coach Coppola and coach Ford come back for this it meant a lot to me and the guys on my team."
More like this from vindy.com