Aebischer's Jewelry celebrates 90 years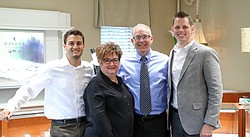 Photo
Neighbors | Submitted.Aebischer's Jewelry in Poland is celebrating its 90th anniversary this month. Pictured are, from left, Alex, Karen, Doug and Adam Aebischer.
A local family-owned jeweler is celebrating 90 years of helping the community shine.
Aebischer's Jewelry, located at 68 South Main Street in Poland, will commemorate its 90th anniversary with an in-store event on April 27 and 28.
"This business has meant the world to me," said Harold Aebischer, whose parents were the store's original owners. "Seeing our jewelry get passed down through generations, and helping people celebrate the biggest moments in their lives, is an incredible experience."
The business was founded by Swiss immigrants John and Johanna Aebischer in April 1928. As a skilled watchmaker, John Aebischer rented a small business space in Struthers and sat in the window taking his own watch apart and reassembling it until he got his first customer.
Harold Aebischer took over the business in 1967 and moved the shop to Poland Village during his time as owner. His son and daughter-in-law, Doug and Karen Aebischer, represent the third generation to own the store. Their sons, Adam and Alex Aebischer, are also involved in the business. Throughout the years, Aebischer's Jewelry has evolved into a full-service shop offering watch and jewelry repair, a bridal department, fashion jewelry, custom design, remounts and several watch lines.
"The entire Aebischer family is grateful for the blessings that have allowed us to remain successful over the past 90 years," Doug Aebischer said. "We look forward to many more years of helping others commemorate the special people and moments in their lives."
The anniversary celebration will feature giveaways that include a 0.90 carat round diamond valued at $6,336; a diamond fashion necklace valued at $1,200; a Mariana necklace valued at more than $242; and a men's watch valued at $450. Visitors must enter each contest in person during the anniversary weekend.
"We wanted to find a way to thank the community for all of its support over the past 90 years," Doug Aebischer said. "We are also offering our customers 25 percent off their entire purchase up to $2,500 that weekend."
For more information, contact Adam Aebischer at 330-757-4685.
More like this from vindy.com