West Branch schools highlight safety efforts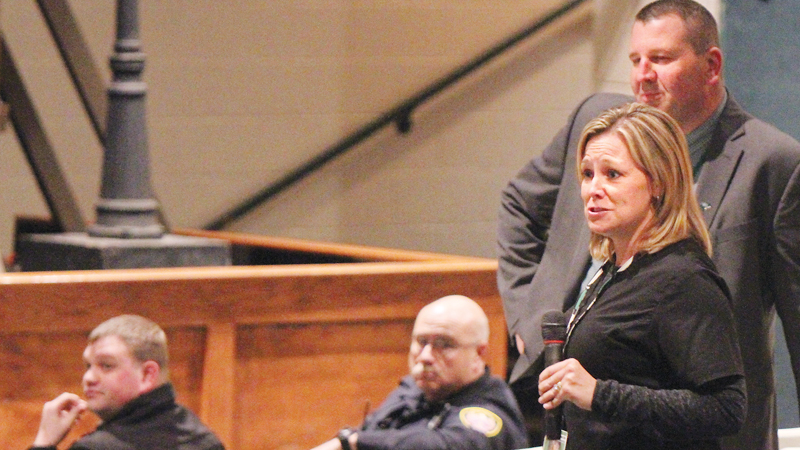 ---
By Sean Barron
BELOIT
When West Branch schools' safety plan was implemented in 1995, no thought was given to dealing with an active shooter, but current protocols must address those potential situations.
"The incident in Parkland [Fla.] brought school safety national attention," schools Superintendent Timothy Saxton said before the district's annual safety update meeting Wednesday evening at the high school. "Our board felt it was necessary to come together to talk about these things."
About 60 parents, police officers, firefighters, school board members and others came to the one-hour session aimed at highlighting what the district has done and intends to do to enhance safety and security. Also attending were several teachers who have received training in the ALICE – alert, lockdown, inform, counter and evacuate – program, designed to handle active-shooter situations.
Saxton noted that ALICE training is a key piece of making the district safer. Components include being notified of a threat; barricading a room, if necessary; communicating the shooter's location and direction; creating distractions; and getting out of danger as soon as it's safe.
"We believe as a district that it's a layer of safety and security we need in place for our students from kindergarten through grade 12," the superintendent said. "It allows our students and teachers to make decisions in immediate time."
Saxton cautioned, however, that the five steps are "nonlinear," meaning it must be adapted to fit the given circumstances surrounding an armed intruder.
The school board is reviewing a controversial nonprofit FASTER program that was created by concerned parents, as well as safety and medical experts. It would authorize certain staff members to be armed, he explained.
Beginning May 1, the district should have in place a system that requires visitors to the schools to produce a driver's license, military identification or other ID, which would be run through a national database. The option will serve as "an enhanced layer of security at each of our entrances," with the capacity to track those in the school and flag anyone who's deemed a threat, noted Saxton, who added that the database will be continually updated.
He also announced a safe-schools tip line that operates 24 hours a day, seven days a week, for anyone who wishes to report threats to student safety. Those with such information can call 844-723-3764 (SAFEROH), he said.
In addition, the district is looking at adding about 150 barricades and locks to make doors and windows better able to withstand greater force and pressure from a shooter, for example. Similarly, plans are in the works to address making doors and windows easier to access as potential escape routes, he continued.
The meeting also examined the district's overall emergency operation plan on how to respond to other crises, including severe weather, bomb threats, fires, power outages and medical situations.
Saxton noted that an effective and comprehensive plan also is dependent on maintaining strong relationships among students, administrators, parents and law-enforcement personnel.
He also talked about assessing and broadcasting incidents in such a way as to strike a balance between informing others, yet not creating panic.
More like this from vindy.com