Perry's grand slam lights up Ursuline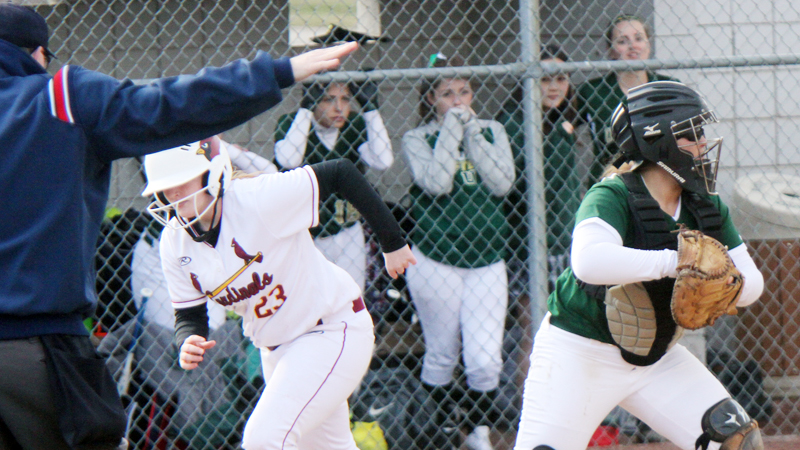 ---
Grand slam powers Mooney past Ursuline
By Tom Williams
BOARDMAN
As she left the batter's box, Cardinal Mooney sophomore Katie Perry was pretty sure her archrivals were about to frown.
"I had a good feeling," said Perry when asked if she thought she had connected for a grand slam at the moment the ball left her bat.
Her feeling was accurate. Perry's shot to right-center field gave the Cardinals a five-run lead against undefeated Ursuline. The Cardinals needed those runs as the Irish scored twice in the sixth inning and once in the seventh in Mooney's 8-6 win.
"I was just really excited," Perry said of her second homer in three games. "It's always excitement [in] the Holy War with our rival. It will always be a good game no matter what sport."
Wednesday's showdown at Fields of Dreams had a little bit of everything: lead changes, extremely boisterous fans and big hits.
"Both teams battled hard, no doubt," said Mooney catcher Conchetta Rinaldi, whose three hits included two doubles. Rinaldi drove in two runs, but she was just as happy to talk about the Cardinals' defensive gem that ended the game.
In the top of the seventh inning, the Irish (7-1) trailed 8-5 when Macy Ross reached base on an infield error by first baseman Lauren Frommelt. Kayla Rutherford hit Maris Barbato with the next pitch.
After Frommelt raced to the fence to catch Destiny Goodnight's foul pop-up, Gia Caldrone singled to score Ross.
Cleanup hitter Jordyn Kenneally hit a liner that third baseman C.J. Sapp snagged. She fired a strike to second baseman Brooke Chandler to double up Barbato to end the game. "C.J. was all over it," Rinaldi said. "To get a double play like that to end the game, especially when they runners on base, it was just a great win."
The victory was the 399th career win for Mooney coach Mark Rinehart, who is in his 26th season. The Cardinals' next four games are at home (Western Reserve Academy, today; Howland, Friday; and Pemberville Eastwood, Saturday doubleheader).
Rinehart was impressed with how his players responded to the sporadic schedule Mother Nature created this spring.
"Mooney-Ursuline brings out the best," Rinehart said. "That's a very good team.
Last week, the Irish played games in South Carolina while the Cardinals (3-0) tried to stay warm and dry and active.
"All the weather issues this year — playing then sitting six days then trying to practice and stay sharp," Rinehart said. "I was proud of how our kids played. We battled back."
Perry finished with five RBIs — her sacrifice fly in the second inning scored courtesy runner Samantha Holden with the game's first run.
In the third inning, the Irish scored three times. Kenneally's two-run homer gave the Irish the lead. Then with the bases loaded, Emma Ericson scored for a 3-1 advantage when Barbato walked.
The Cardinals rallied in their next at-bat. Carly Francis led off with a double to left field. One out later, Gia DiFabio singled to score Francis, then Rinaldi doubled to tie the game.
Rinaldi's other RBI came in the fifth inning when she singled to score Sapp with the tie-breaking run.
It was the Cardinals' third consecutive win over the Irish, who now play just once in the regular season.
Ericson hit a two-run homer in the sixth inning.
"When it was 8-3, we had a little wind go out of our sails," Ursuline coach Michael Kernan said. "[My players] knew that they would come back. All year long, we've had firepower in our bats.
"I know they sensed that going into the last inning," Kernan said. "Our lineup one through nine is very solid."
More like this from vindy.com