Youngstown JROTC students offer gentle hands to Animal Charity hounds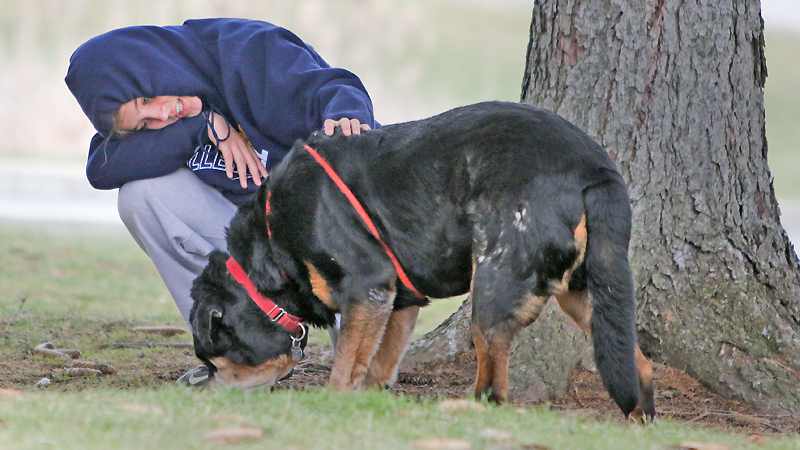 ---
By AMANDA TONOLI
atonoli@vindy.com
CANFIELD
Youngstown City Schools Junior Reserve Officers' Training Corps students had no bones about helping with hounds at Animal Charity Humane Society, 525 W. Main St., Wednesday afternoon.
"We're just helping out by taking dogs on walks or washing dishes," explained JROTC student Jade Frazier about Chaney High School's JROTC service-learning project.
Several students cuddled, ran with and played with current Animal Charity residents for nearly two hours. They took turns washing out dog dishes and filling dog toys with peanut butter, as well.
Jade said she simply asked Animal Charity if her JROTC class could volunteer as part of a service-learning project, and Animal Charity welcomed students with open arms and excited, four-legged furry friends.
"It's a great experience for them to come and help out and give back to the community," said Jessica MacMurchy, Animal Charity Humane Society humane agent.
And the students enjoyed it.
"It just feels so good," said JROTC student Tyler Wagner.
The students and volunteers weren't the only ones to reap benefits from the experience.
Kimberly McCann, also a JROTC student, said it was nice not only being able to take the stress off Animal Charity employees and volunteers, but also the dogs.
Before visiting Animal Charity, Jade said both Chaney and East High School's JROTC classes had been collecting items for the animals through a pet supplies drive from March 13 through April 10.
"It's just fun," Jade said.
Jade loved being able to be around dogs, as they remind her of her dog at home – Layla, a 7-year-old best friend.
Jade's love of dogs and experience in the service-learning project have fostered her career ambitions to become a veterinarian.
More like this from vindy.com