Velasquez in running for Army-HOF scholarship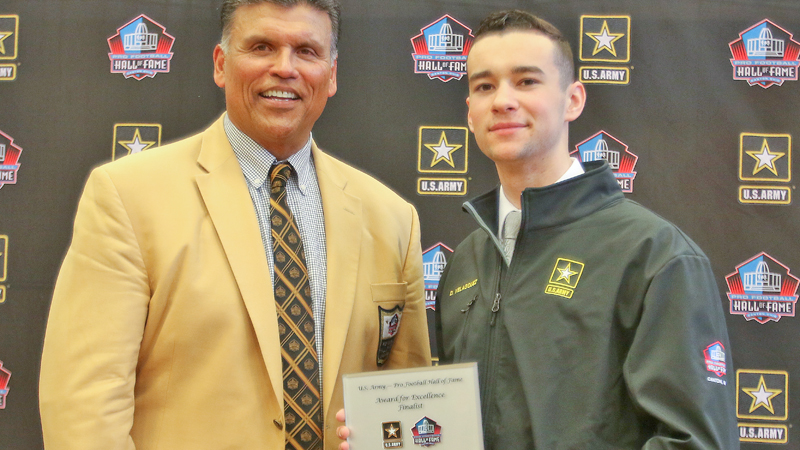 ---
By Greg Gulas
BERLIN CENTER
For the first time since the U.S. Army-Pro Football Hall of Fame Award for Excellence program was established in 2012, a Mahoning Valley student-athlete, Dom Velasquez of Western Reserve High School, is one of 25 finalists nationwide competing for a $2,500 scholarship.
The recipient will be announced on Aug. 4 and recognized during this year's Pro Football Hall of Fame enshrinement ceremonies in Canton.
"This has truly been a humbling experience. I cannot be more thankful for my parents, classmates, faculty, administration, coaches and teammates," Velasquez said during Tuesday's recognition ceremony at the school, which was attended by former Cincinnati Bengals Hall of Fame offensive tackle Anthony Munoz and representatives from the Hall of Fame and U.S. Army, as well as students and school officials.
"I couldn't be more proud of Western Reserve High School because today, our school showed the nation that it isn't the size of the school that matters, it's the grit of our students, faculty, coaches and administration."
A three-sport standout for the Blue Devils in football, basketball and baseball, Velasquez threw for 3,331 yards and 42 touchdowns in football. He is currently 9-4 as a pitcher and is batting .344 with 56 RBIs in baseball. He also scored 328 career points, adding 274 rebounds as a member of the basketball team.
A perfect 4.0 student, Velasquez's in-school activities include lead roles in plays at the height of football season, serving as Student Council president, National Honor Society, Spanish NHS, choir soloist and member of Ohio Educators Association District Honors Choir.
Enrolled in the school's most challenging curriculum, his many honors include the Emperor Science Award (given to the top 100 students nationally and sponsored by PBS), has performed cancer research in concert with Case Western Reserve University's School of Medicine (the Global Incidence of Ocular Cancers) and was one of 150 students in the nation chosen to attend the Hispanic Youth Leadership Institute in Chicago.
"Dom is a very unique student-athlete in that he is intrinsically driven. He's motivated from within," Blue Devils football coach Andy Hake said. "In addition to his intelligence, he wants to please, cares passionately about other people and that's a remarkable quality. He played for me the last four years, is a leader and an excellent role model for everyone."
Finalists are based on their excellence in academics, athletics and community service and head basketball coach Patsy Daltorio noted that Velasquez embodies every one of those traits and then some.
"I had to fill out an application for academic All-Ohio, of which he was a first-team selection and it was eye-opening as to the many activities and programs of which he is involved outside the school setting," Daltorio said.
According to the Pro Football Hall of Fame website, president and CEO, David Baker states "the Award for Excellence program celebrates the achievements of extraordinary high school-aged individuals who will shape the future of our country. The Pro Football Hall of Fame appreciates the U.S. Army's support and commitment in shining the light on the values shared by these great young people and our Hall of Famers."
Munoz represented the Hall of Fame.
"I usually represent the Hall of Fame at two or three of these events each year and enjoy this award because it doesn't just focus on just their athletic accomplishments. Instead, it focuses on classroom work and their many accomplishments away from school," Munoz said. "You really don't know much about the young men and women who are finalists until you arrive at the school and talk to their teachers, administrators and coaches. Today, though, when I first shook hands with Dom, I knew right then and there that he was something very special."
Captain Mark Zwirgzdas, YSU assistant professor of military science, was one of three U.S. Army representatives.
"While Dom is an excellent athlete, it's also about him being an excellent student and his community involvement," Zwirgzdas said. "It's about being well-rounded. This program is about citizenship and that is why the United States Army is involved. It meshes with our seven core values of loyalty, duty, respect, selfless service, honor, integrity and personal courage, and Dominic embodies all seven of those values."
Velasquez is ecstatic that Western Reserve High School is now in the national spotlight.
"We proved that Western Reserve can compete in the national arena," he said. "We confirmed that excellence comes from all corners of our country and is not monopolized by the largest, wealthiest or most powerful."
More like this from vindy.com