Hall finds Pitt spotlight
---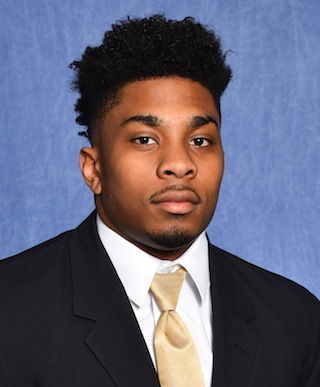 Photo
By BRIAN DZENIS
bdzenis@vindy.com
Last October, there was little to write home about Pitt football.
Going into an Oct. 21 contest against Duke, the Panthers were 2-5 and had one of the worst rushing attacks in college football, failing to exceed 100 yards on the ground in three of their last four contests.
Austintown Fitch graduate Darrin Hall barely saw the field with just 12 carries in the previous four games — two of which the junior saw his touch total at zero.
When the Panthers faced the Blue Devils, head coach Pat Narduzzi trotted out Hall as the starter.
Hall turned in a 254-yard, three-touchdown performance that featured a 92-yard TD run that is the longest in Pitt history. The run broke George McLaren's 100-year old mark of 91 yards. Pitt won the game, 24-17.
Hall finished the season as the team's leading rusher with 628 yards and nine scores. The Panthers finished the year 5-7. He views the breakout game against Duke and the stats he put up afterwards as affirmation.
"For me, it was just relief. I knew I could do it. I knew I had the skill to do it. I just didn't get the opportunity to do it," Hall said. "When I got that opportunity, I was relieved and I wanted to do it again."
Hall is currently in spring ball with the Panthers as the team's assumed No. 1 back. While he hasn't been explicitly told and the team hasn't formally announced it, he said he's had the majority of the reps with the starters or "ones."
Hall had to wait his turn. He sat behind current Pittsburgh Steelers back James Conner in his freshman and sophomore seasons.
In his junior year, he had to compete with Chawntez Moss and Qadree Ollison for playing time.
Moss was kicked off the team at the end of the season coming off a midseason suspension for unspecified disciplinary reasons. Hall never thought of cutting bait with Pitt.
"It's hard. You want to play and you want to contribute, but I've never been one of those guys that give up and quit," Hall said. "I still practiced hard. I still in my playbook and I knew everything about what to do.
"Luckily, I had some things happen and I got my shot. With me practicing hard and doing the right things, I was able to get better.
"The worst thing I could do was stop getting better."
Hall kept a good relationship with all of the aforementioned backs, even when their success sometimes came at his expense. With the Steelers and Panthers sharing the UPMC Sports Performance Complex as a practice facility, Conner is still a frequent sight around the Panthers program.
"[Conner] has helped me become a better back. It's not just [what we're doing] at practice but with my mindset and I thank him for that," Hall said. "[Ollison and Moss] helped by just being there and competing, but the mentality you have to have to be successful? I owe that to James."
Lately, the conversations between the two have concerned playing football on Sundays. Hall said in addition to getting better as a running back, his coaches have asked him to become more of a verbal leader of both his position group and the team. The staff wants him to be the leader he was at Fitch and then some.
"I talked when I needed to, but as far as being on guys, I wasn't really about that," Hall said of his time in Austintown. "I encouraged everyone, but as far as really being that voice, that wasn't me."
Hall remains close with the Falcons program. He keeps in touch with coach Phil Annarella and makes catching a game a priority when Pitt has an open week.
After Pitt concludes spring ball, Hall will spend some time in Haiti doing mission work alongside other Pitt athletes. For years, the school's Coalition of Christian Outreach has organized such trips.
"I really wanted to go last year, but I wanted to take a year to mature and make it more meaningful," Hall said. "We're going to talk to kids out there, play with them and teach them a little bit about God."
When he returns to the U.S., the focus returns to getting Pitt on the right track.
"We've got a little chip on our shoulder. The way the season ended last year, we don't want that to be our identity — especially for our senior group," Hall said. "We don't want to go out like that again."
More like this from vindy.com