UPDATE | Family escapes fire at their Hubbard home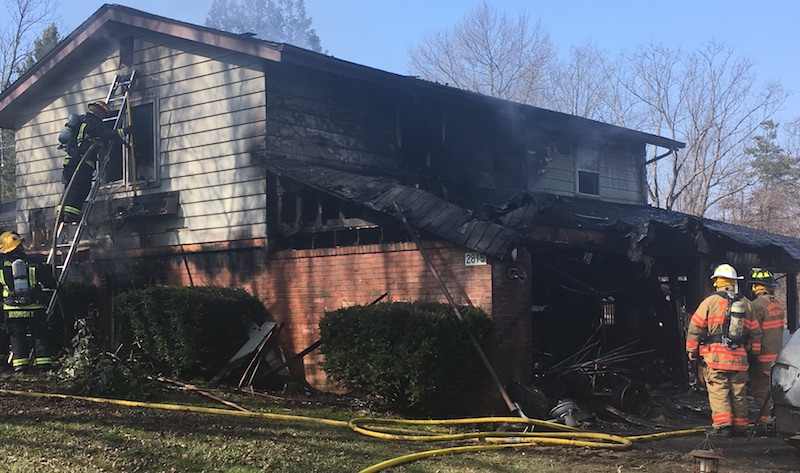 ---
HUBBARD — Several Ohio and Pennsylvania fire departments responded to a three-alarm fire on the 2000 block of Applegate Road in Hubbard Township about 7:50 a.m. today.
Liberty Township Fire Capt. Cathy Macchione said the house is a total loss. The American Red Cross was called to assist the family.
The smoke alarm woke up Tammy Roberts and her daughter, who were able to escape before the fire got too intense.
One dog escaped, but another dog, a cat and a chinchilla perished.
Liberty Fire Department was the first on the scene. Macchione said the Eagle Joint Fire District of Hubbard arrived soon after but they were running out of water.
Brookfield, Coitsville, Vienna and Shenango Fire Departments came to assist.
Officials believe the fire started in the garage, but they are still investigating.
The fire was contained at 9:30 a.m. but firefighters spent hours afterward hosing everything down to make sure there's no threats of another fire breaking out.
''It's hard because they lost all their things, pets, everything they cherished. But they still have each other. They made it out, and all of our guys are safe,'' Macchione said.
10:14 a.m.
HUBBARD — The Hubbard Eagle Joint Fire District and Coitsville Fire Department responded to a call about a house fire about 7:50 a.m. today in the 2000 block of Applegate Road, according to a dispatch report.
The fire was put out about 9:30 a.m. The report stated the people living inside got out safely.
More like this from vindy.com