Youngstown Clothing Co. makes zombie raccoons shirt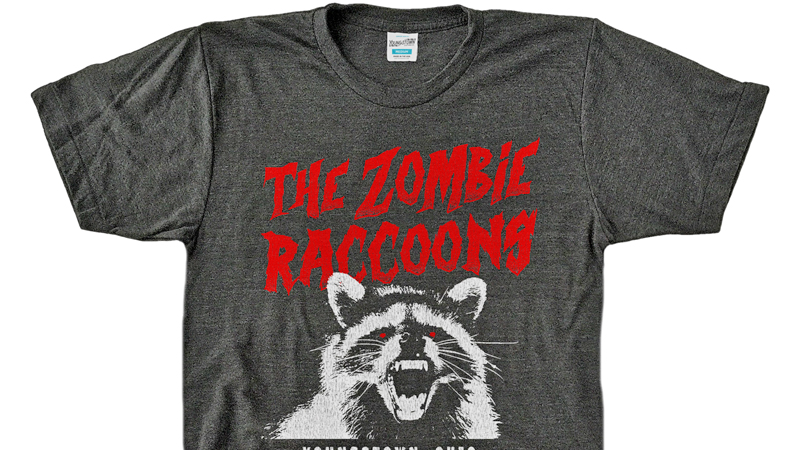 ---
Staff report
YOUNGSTOWN
The Youngstown Clothing Co. now has a zombie raccoon shirt on sale to promote awareness for the Youngstown raccoons that suffered from an unknown condition.
The Ohio Department of Agriculture will now test the raccoons for distemper after a rabies test came back negative, the Youngstown City Health District said Monday.
Last week, the U.S. Department of Agriculture determined that several "zombie-like" raccoons shot by Youngstown police did not have rabies.
Police took six reports of raccoons from March 30 through April 2, four of which were on the West Side near Mill Creek MetroParks. Reports described the animals as wobbling and stumbling. Officers recovered five of the six raccoons for testing. A sixth raccoon fell into the Mahoning River.
A portion of the proceeds from the $25 zombie raccoons shirt will go to the Ohio Department of Natural Resources Wildlife Division.
Matt McClure of Youngstown Clothing Co. thought the shirt might get 50 shares on Facebook, but on Monday it had surpassed more than 500 since it hit the shelves of the online retailer Sunday.
"We have never really had such a viral shirt," he said. "It's relevant right now because it's in the news."
McClure watched as the story was picked up by national news and thought it was a piece of local pop culture that could make for a cool shirt. The shirt comes with a horror movie font that yells "The Zombie Raccoons" and a picture of a zombie raccoon with red eyes.
Now, it's one of the top sellers for Youngstown Clothing Co.
"It was nuts just watching people share it," he said.
The zombie raccoons shirt can be purchased at https://www.youngstownclothingco.com/.
The news of the raccoons comes a few weeks before the city has a rabies shot clinic for dogs, cats and ferrets from 2 to 3 p.m. April 21 at the Oak Hill Renaissance Place parking deck at 345 Oak Hill Ave. Cats and ferrets should be in a cage and dogs on leashes. Each shot is $6 per animal. For more information call the Youngstown City Health District at 330-743-3333 ext. 283.
More like this from vindy.com