Velasquez's 1-hitter freezes Rockets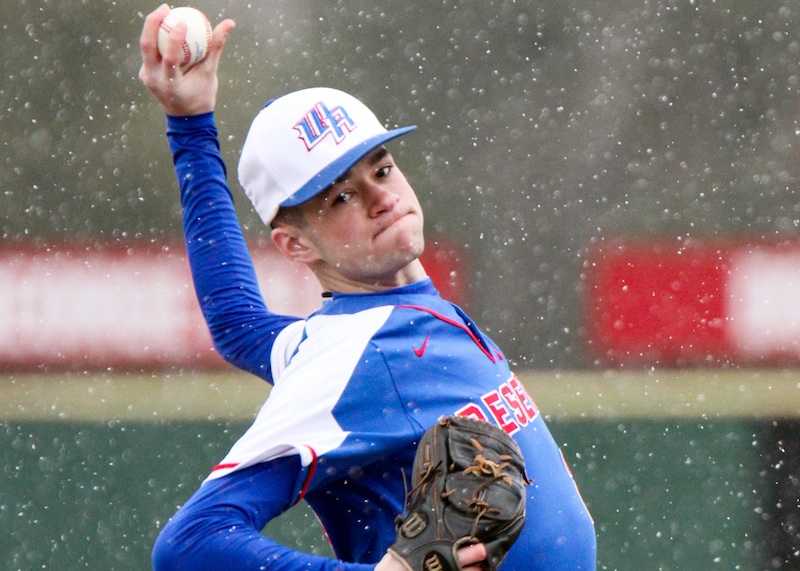 ---
Western Reserve vs Lowellville Baseball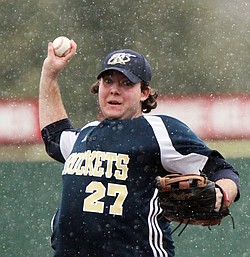 Gallery
Western Reserve vs Lowellville Baseball
By BRIAN DZENIS
bdzenis@vindy.com
STRUTHERS
Pitching in weather more appropriate for football than baseball, Dom Velasquez delivered for Western Reserve.
Depsite needing to pause between every pitch on Monday to blow air on his throwing hand as snow came down in Cene Park, he one-hit the Lowellville Rockets for a 5-2 victory.
Velasquez struck out six and walked two in six innings. Ryan Slaven struck out three and walked one in the seventh.
"You just do whatever you can to get a grip on the ball," Velasquez said. "It was the same for ([Slaven], who did an excellent job coming in to get the save."
While many baseball and softball teams canceled their games, the coaches from these teams were determined to get the game in.
"I knew we were going to try and get this in because everyone is so far down in games," said Blue Devils coach Ed Anthony, whose team played its third game. "I talked to our AD [Jeff Martig] and he said [Lowellville] also wanted to get the game in.
"Plus, [we're] playing at Cene. I don't think a lot of schools are playing on their own fields. The fields and the environment were better up here, so we knew we had a good chance."
Lowellville's (3-1) lone hit was a Jason Higgins single in the third and the Rockets managed to score two runs without any hits in the fourth.
Velasquez walked Dom Layko to start the inning and he made it to third base on an error in the following at-bat. Layko scored on Bryan Harris' sac-fly. Matt Hvisdak, who reached first on the previous error, scored on another error.
Both teams split six errors in the contest.
"When you play a game like that in this weather, you can't ask for much more. We had 13 hits and only a few errors," Velasquez said. "And with [the errors], you chalk that up to the weather."
Trailing 2-1 in the fifth, the Blue Devils' (2-1) bats got the better of Higgins, Lowellville's starter. The Blue Devils loaded the bases before Cody Wise singled home Ryan Demsky. Western Reserve had another run come in on a fielder's choice in the fifth before Velasquez two-run single in the sixth gave his team its biggest lead.
"I think [Higgins] started to get tired. I probably left him in for too long," Lowellville coach Nick Clinkscale said. "It's still early in the season and we're still trying to figure out how long guys can go. He said he was good, but I don't think he could feel his fingers."
Higgins gave up 11 hits before being pulled in the sixth inning not long after Velasquez' single. He struck out three and walked three in defeat.
While Velasquez — a senior — is a known entity in the Blue Devils' rotation, Anthony is still sorting out the rest of his team's staff with limited games to evaluate players.
"We're getting to that point," Anthony said. "Dom goes first and we look at Demsky to be two and either Cody Wise or Slaven for three and four."
Lowellville is in a similar boat.
"We expect to have solid pitching and good defense. We're still trying to figure out what we have offensively," Clinkscale said. "We're trying to generate runs. We have some question marks in the outfield, but our pitching and defense is set."
At the plate, Velasquez and Dallas Smith were 3-for-4 with Smith hitting an RBI-double in the third. Lowellville snapped a three-game win streak with the loss.
More like this from vindy.com