Topless protester charges at Bill Cosby as retrial begins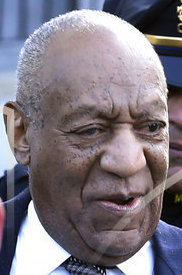 Photo
NORRISTOWN, Pa. (AP) — A topless protester with "Women's Lives Matter" written on her body jumped a barricade and got within a few feet of Bill Cosby today as the comedian walked into a suburban Philadelphia courthouse for the start of his sexual assault retrial.
The unidentified woman ran in front of Cosby toward a bank of TV cameras but was intercepted by sheriff's deputies and led away in handcuffs.
Cosby seemed startled by the commotion as a half-dozen protesters chanted at him.
The disruption came ahead of opening statements today, though a delay was expected while the judge sorted through allegations raised late Friday that a juror was overheard saying he thought Cosby was guilty. Cosby's lawyers asked that the man be questioned and removed from the case.
Prosecutors have lined up a parade of accusers to make the case that the man revered as "America's Dad" lived a double life as one of Hollywood's biggest predators.
He is fighting back with a new, high-profile lawyer and an aggressive strategy: attacking Andrea Constand as a greedy liar and casting the other women testifying as bandwagon accusers looking for a share of the spotlight.
"You've seen previews and coming attractions, but things have changed," said professor Laurie Levenson of Loyola Law School in Los Angeles.
More like this from vindy.com