Local artist creating work to honor vets; cost is about $75,000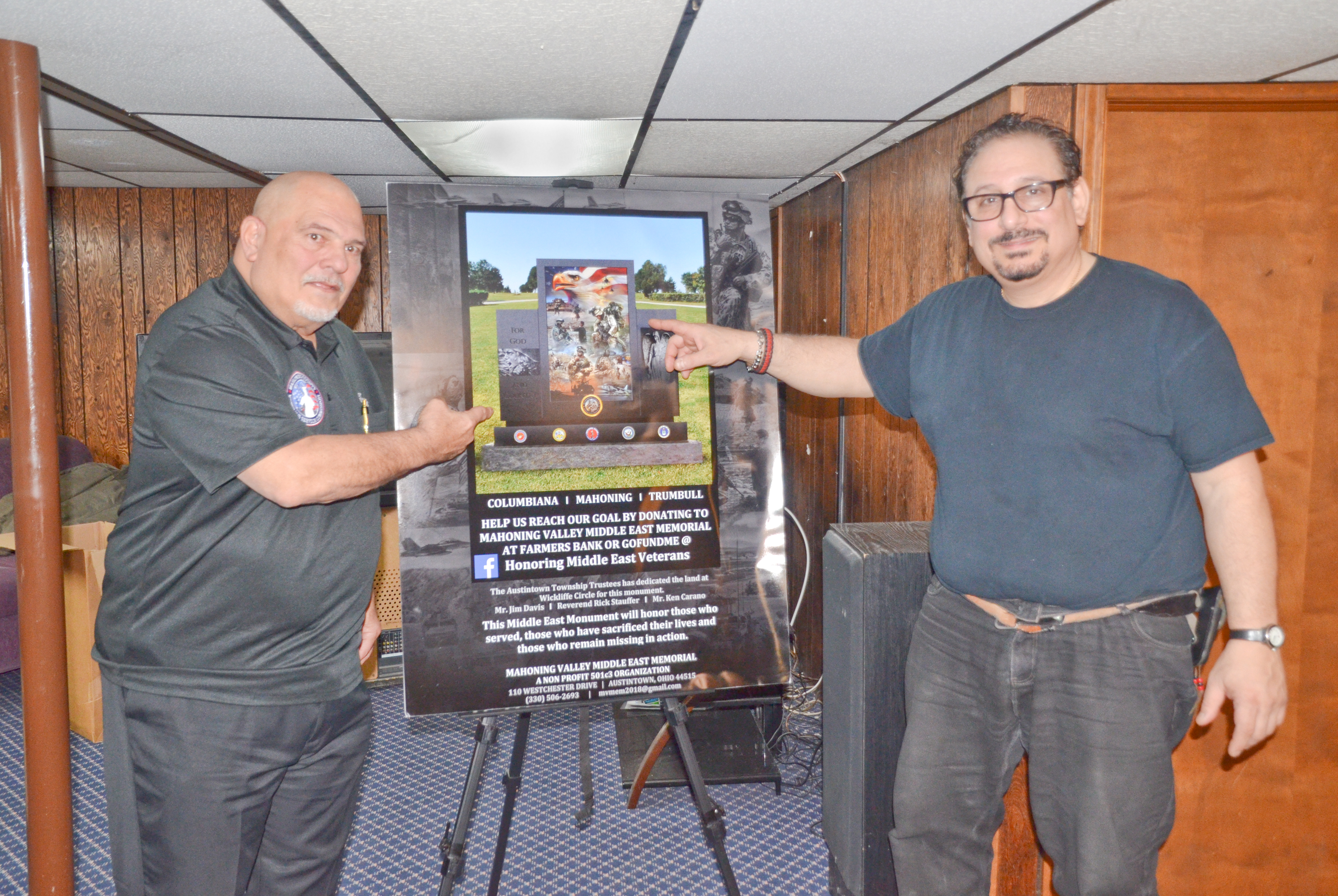 ---
AUSTINTOWN — By William K. Alcorn
AUSTINTOWN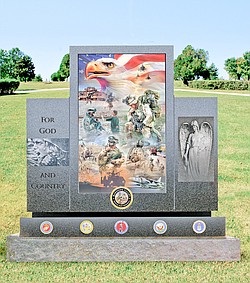 Raymon Simon

Photo
The proposed Mahoning Valley Middle East Memorial that will be located at Wichliffe Circle.
The men and women who served in the military in the Middle East from 1975 to the present, and those who will serve there in the future, are finally getting the recognition they deserve.
Nationally known local artist Raymond A. Simon is in the process of creating the artwork for the Mahoning Valley Middle East Memorial, which he says will be the largest full-color outdoor granite veteran memorial in Ohio, and possibly in the United States.
The 10,000-pound memorial, to be erected in Wickliffe Circle on land donated by the Austintown Township Board of Trustees, will include 60 7-by 7-inch porcelain tiles inlaid in the granite.
"It's time to recognize the men and women who have served, those who have been wounded, those who have sacrificed their lives and those who are missing in action in the Middle East War," said Tony Revetti of Austintown, who is spearheading construction of the memorial.
"Our country will be in the forefront in honoring Middle East veterans, many of whom are still serving in that part of the world. There are very few Middle East War memorials nationwide," said Revetti.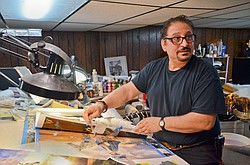 Photo
Artist Raymond Simon shows off some of his latest works at his home studio in Canfield. He has created an image that will be used on a Mahoning Valley Middle East Memorial at Wickliffe Circle in Austintown. Photo by Scott Williams - The Vindicator
America has played an intricate role on the world stage throughout the annals of warfare, said Simon.
"As Winston Churchill once said: 'Had this nation [America] not been firmly in place, the world would have fallen into a deep abyss of tyranny and evil,'" he said.
Simon also cited a statement from Capt. William F. Halloran II, a fighter pilot of the Tuskegee Airmen, who said: "America's not perfect, but I'll hold her hand 'til she gets well."
"We all need to hold America's hand," Simon said.
Involved in the project with Simon are Revetti and Dave Ewing, commander and senior commander of Disabled American Veterans Chapter 2 in Mahoning County, respectively, whose dream it is to build the Mahoning Valley Middle East Memorial to honor the men and women from Columbiana, Mahoning and Trumbull counties who served in the Middle East War.
"I want to do something for those who have served, and their families," said Revetti, who served in the Air Force from 1971 to 1974, and whose son Joseph, an E-7 in the Army, served in Iraq.
The granite memorial will be inlaid with 60 porcelain tiles baked with the same process as stained glass, assuring they will never fade, said Simon.
Simon envisions the memorial becoming an educational destination for schools throughout the Mahoning Valley.
"An accompanying audio file will tell the story of why we are in the Middle East and about our way of life and love of freedom of choice. It will help schools in the Mahoning Valley inspire and teach students and future generations about America and the reasons men and women sacrifice their lives for their country," he said.
The artist's father, Patrick Simon, served in the Army during World War II in the 506th Infantry Regiment, C Co. of the 101st Airborne Division, and participated in the invasion of Normandy on June 6, 1944.
"His service is what started my lifelong journey of dedicating my artwork to honor those who have granted me the freedom to create patriotic-thematic art that tell compelling stories," Simon said.
Revetti and Ewing came up with the idea of commissioning Simon to create the memorial.
The massive granite memorial will cost about $75,000 for all materials and installation.
"We are asking businesses, veterans and other organizations, and the public to help make this dream become a reality," said Revetti.
Those desiring a sponsorship package can email their request to raysimon.rsi@gmail.com.
"Our local companies can only do so much, so we are asking the great citizens of our community to donate what they can," said Revetti.
Contributions can be made at any Farmers National Bank in care of the Mahoning Valley Middle East Memorial; or by logging on to Facebook and typing in the search b ∫ox which will direct you to the GoFundMe page. The Mahoning Valley Middle East Memorial is a 501(c)(3) nonprofit organization.
For information, call Revetti at 330-506-2693 or Ewing at 330-979-3472.
"Now is the time to recognize the ongoing efforts and sacrifices made by our Middle East war veterans," said Simon.
"We ask everybody help us honor those veterans who have given their lives, or a portion of time out of their lives to protect our freedoms," Revetti said.
More like this from vindy.com