Williamson students have gentleman's luncheon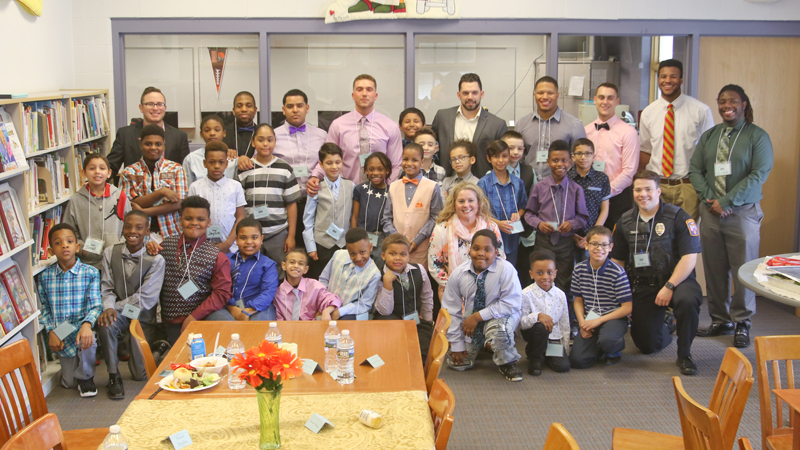 ---
By AMANDA TONOLI
atonoli@vindy.com
YOUNGSTOWN
To second-grader Damien Rodriguez, being a gentleman means "to be nice to ladies and help others."
"Being a gentleman means helping my mom with groceries, chores, opening the door for her and just being nice instead of being rude," said third-grader Nicholas Blalock.
That is what some of the group of 25 students Williamson Elementary second- through fourth-graders said during their bimonthly Gentleman's Luncheon on Friday afternoon.
With the support of teachers and the school principal, Gentleman's Luncheon and Youngstown State University Project PASS coordinator Kristen Italiano said students are following a look-good, feel-good and do-good initiative.
"We have students holding each other accountable to do what a gentleman does by giving them opportunities to behave in a way that's successful," she said simply. "When you dress for success, you don't want to fight or shove or be shoved."
To help get students into gentlemanly behavior, young men from the community – many from YSU – join the luncheon to serve as role models.
"We are getting males and minority males into the lives of these students who may often lack strong male figures and showing them, 'Great, you can do this,'" Italiano said. "It's nice because it's someone 8 or 10 years older that's cool and relatable."
And it's not just during the group's meetings that young men put their best feet forward.
"When staff sees students doing something and acting like gentlemen, [students] can receive Gentleman Gestures," said Michelle Payich, Williamson Elementary principal.
Gentleman Gestures are slips of paper the staff can fill out giving kudos to their gentleman students.
"The last time we had indoor recess we asked the kids, 'What do you guys want to do?' and I can't forget our young gentlemen said, 'Let the girls decide,'" Payich said. "They remember outside of just this luncheon to be a gentleman all the time."
But the luncheons are where all of the finer assets of Williamson's young gentlemen are on display.
"I wasn't prepared for the success and benefits from both the YSU and the Youngstown City School students," Italiano said. "It's more mutually beneficial than I would've imagined."
Gentleman volunteer Darien Williams of Youngstown, a YSU graduate, said he just likes being able to give back.
"It's nice seeing kids smile, and to see so many good manners and good traits," he said. "It's heart-warming and makes you tear up."
In all, Nicholas said he just enjoys being able to eat and hang out with fellow gentlemen.
"I just have a nice time," Damien echoed.
More like this from vindy.com