Shower and health fair attract expectant crowd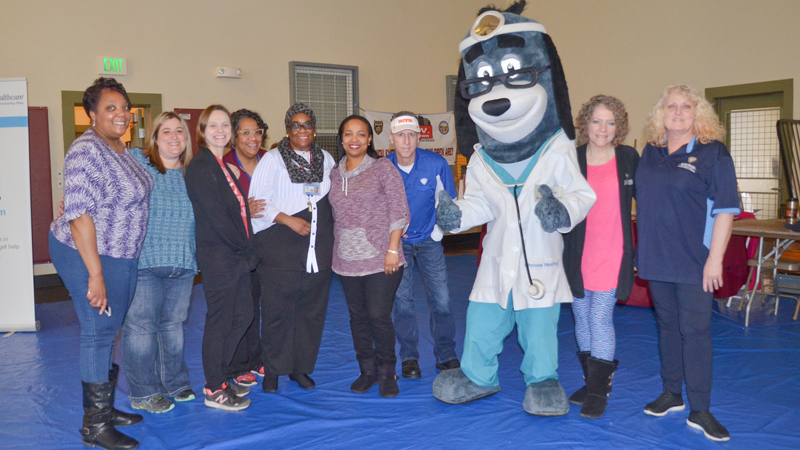 ---
By SHAIYLA B. HAKEEM
news@vindy.com
YOUNGSTOWN
Expectant mothers gathered Saturday to learn about the best ways to care for their new babies.
The fourth annual Citywide Baby Shower and Health Fair took place at Eugenia C. Atkinson Recreational Center, 801 Otis St., on the city's North Side.
The free event, organized by the Youngstown Office on Minority Health, featured more than 15 community resources for mothers and caregivers. Attendees could participate in games and free raffles to win donated gifts such as car seats, cribs, strollers, baby-hygiene products, bottles and other infant necessities.
Attending the event were Youngstown residents Ajah Dawson, 19, and Elaina Hernandez, 20, who are both expecting their little ones to be born in less than three months. The two cousins attended the baby shower together for encouragement and to get information on what to anticipate as new mothers.
Hernandez said she and Dawson have a lot to learn because this is the first pregnancy for them.
"It's kind of scary at first, you know, being young and pregnant," Hernandez said. "You think that everyone is going to judge you, but it's cool that here [at the baby shower] they're not."
In 2002, Congress deemed April as National Minorities Health Month in an effort improve the health quality of minorities and decrease health disparities.
In observance of minorities health month, Leigh Green, director of Minority Health for Youngstown, came up with the idea of the annual baby shower in 2014. She was baffled by the high infant-mortality rate in the Mahoning Valley, especially in black communities.
Greene said infant mortality is defined as the death of a baby, born alive, ranging in age from minutes up to their first birthday. She believes education, community involvement and a good support system are important to reduce infant mortality.
"Unfortunately, there will be infant loss," Green explained. "But there are things we can do as a community to decrease the number of those deaths and help our infants reach their first birthday."
Green said the most important area that can reduce newborn deaths are the basics of infant safe sleeping – babies sleep safest alone, on their backs, and in a crib.
According to the Ohio Department of Health, two out of three babies who die while slumbering have been sharing a bed space with an adult. Infants sleeping on their back have a lower chance of choking, and items such as stuffed animals, blankets, pillows, and bumper pads can be deadly.
"I cannot stress the importance of safe sleep," Greene said. "We want to make mom and family members aware of things to keep baby safe and help them reach their first birthday."
Though the baby shower centered around mothers, it did not exclude fathers-to-be.
Members of Kappa Alpha Psi Fraternity Inc., Youngstown Alumni Chapter, were present and reiterated the importance of baby sleep safety and spreading the word about their upcoming Nurturing Fathers Program.
"Sometimes there's a stigma that men don't need to know things about babies or sleep safety," said fraternity member Ben McGee, "But we absolutely do."
The fraternity's fathering program is set to begin April 18 and will encompass things such as the roots of fathering, cultural influences, balancing work with fathering, co-parenting, dealing with feelings, and discipline without violence.
The program is once a week, for 13 weeks, from 5:30 to 7:30 p.m., in the Youngstown Metropolitan Housing Authority's media room.
In celebration of babies who have made it past the window of infant mortality, the Youngstown Office on Minority Health will be throwing a Community 1st Birthday Celebration from noon to 2 p.m. April 26 at the Atkinson center. It is free.
More like this from vindy.com