One Hot Cookie celebrates 5 years in business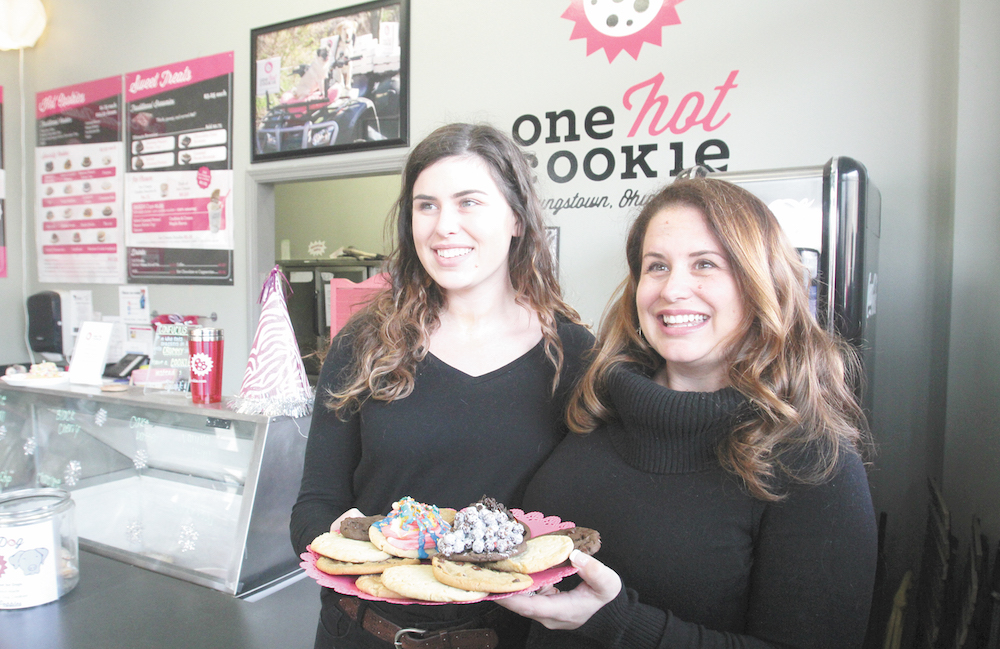 ---
By KALEA HALL
khall@vindy.com
YOUNGSTOWN
One Hot Cookie has been in business for five years – and that calls for a cookie.
A sugar cookie topped with pink frosting, cotton candy, sprinkles and glaze is how owners Bergen Giordani and Morgen Giordani Reamer plan to celebrate.
The anniversary cookie dubbed the "unicorn cookie" represents five years of chance taking, cookie baking and customer making.
"We have tried to keep it fun and engaging," Bergen said. "We want it to be an experience. Cookies are a commodity. When you come to One Hot Cookie it needs to be something fun."
Bergen and Morgen are a mother-and-daughter team that together took a chance and opened their cookie shop in downtown Youngstown's Erie Terminal Building five years ago.
They used their love of desserts, family recipes and fun pink and zebra-print furniture from Morgen's room to create the One Hot Cookie brand, and they've never looked back.
"We are proud to be a part of Youngstown and super proud to be a part of the revitalization down here," Bergen said.
One Hot Cookie is ingrained in the downtown community, which has led to its success today.
"It's a place that doesn't look very inviting but it's a community and a culture all on its own," Morgen said of downtown.
Morgen was a sophomore at Canfield High School when her mom came home and said: "We're going to open a cookie shop."
They opened in April 2013, selling just hot traditional cookies.
"The first months were kind of rough," Bergen said. "We plugged away at it and it paid off."
To set One Hot Cookie apart, Bergen and Morgen started to explore speciality cookies by topping their traditional cookies with fancy frosting and toppings. Salted caramel pretzel – a sugar cookie with pretzels, chocolate and caramel – was one of the speciality cookies that took off.
Today, there are 14 speciality cookies on the menu and typically three or four seasonal speciality cookies. The unicorn cookie will
be on the menu through April.
"We picked flavor combinations that people could wrap their head around," Bergen said.
From the start, Bergen and Morgen knew the marketing and the product were both important to the growth of the brand.
The theme has always been about the fun.
Customers walk in and are greeted by the inviting smell of warm cookies, bright colors and cute dogs that belong to the owners. The original "cookie dog" was a pug named Fredo. Today, every One Hot Cookie location has a framed bow tie in honor of the late Fredo. Remington, a yellow lab, and Princess Kate Middleton, a pug, are the other cookie dogs used to market One Hot Cookie.
"We try to make the stores a reflection of us," Bergen said.
The cookie shop started to really pick up business after Christmas 2013.
In 2014, they added ice cream to the menu to pair with the cookies.
"I think [the fact] that we were adaptive and open to change which was helpful," Bergen said.
A second One Hot Cookie location opened just a year after the first location inside the Austintown Library, but that later closed. In 2015, a Niles location opened but closed this year.
The Boardman One Hot Cookie location on U.S. Route 224 also opened in 2015, and business there is still booming. Last year, the Ross Park Mall in Pittsburgh got a One Hot Cookie location.
This year, One Hot Cookie announced its first franchise location will open in Berlin in May.
"We have shifted focus into franchising," Bergen said. "We decided that's what we wanted to do. We jumped in with both feet just have we have done everything else."
Robin Barnby was in Ross Park Mall late last year when she tried One Hot Cookie.
"It just was a tremendous experience," Robin said.
Barnby first took to the atmosphere of One Hot Cookie with its fun, pink and dog theme.
Within the first couple of bites of the product, Barnby started to ask about franchising.
After she met with Bergen and Morgen, she knew she wanted to be a part of One Hot Cookie's future.
"They just feel like two women that I can do business with," Barnby said.
Barnby plans to eventually have other One Hot Cookie shops in Akron, Cleveland, Canton and maybe even the Columbus area.
"I feel like we are going to make a really good team to make One Hot Cookie grow," she said.
More like this from vindy.com